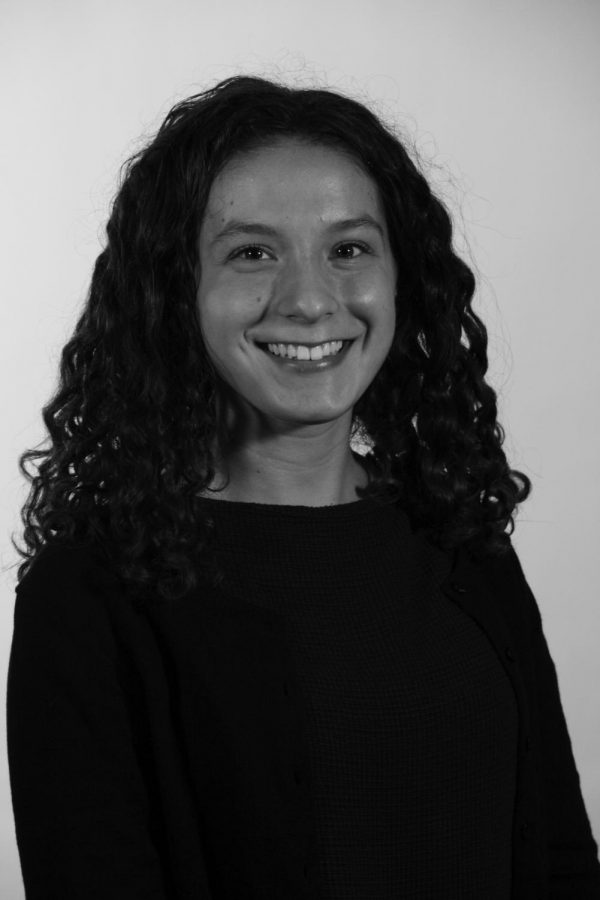 What elementary school did you go to?
Graham & Parks
What other activities are you involved in at CRLS and/or in the community?
I am co-president of CRLS' Environmental Action Club and I am part of Sisters on the Runway. In past years, I have run cross country as well.
If you could interview anyone, dead or alive, who would it be and WHY?
I would like to interview the stand up comedian Hannah Gadsby. Her new show "Nanette" is a lot more than just comedy. I would like to understand Gadsby's brilliant, eclectic mind.
Isabelle Agee-Jacobson, Editor-in-Chief
Jun 17, 2020

CRLS Students React to a Summer Impacted by COVID-19

(Story)

May 28, 2020

Editor-in-Chief Introduces New Motto, Bids Farewell to Register Forum

(Story)

May 26, 2020

CRLS Students Who Were Grocery Store Employees Pre-Pandemic Now Essential Workers

(Story)

Apr 30, 2020

Cambridge Principals Reflect on the Daunting Task of Transitioning to Distance Learning

(Story)

Apr 25, 2020

Best Books to Read During Quarantine

(Media)

Oct 30, 2019

School Committee Candidate Interviews

(Story/Media)

Oct 03, 2019

Welcome to the 129th!

(Story)

Jun 12, 2019

Level Up Effort at CRLS Meets Some Parental Resistance

(Story)

May 02, 2019

Controversial MCAS Question Leads to State Response

(Story)

May 01, 2019

The Environmental Impact of Beef? It's Complicated

(Story)

Mar 30, 2019

Steven Pearlstein's "Can American Capitalism Survive?"

(Story)

Mar 03, 2019

In Interview, Principal Discusses Redesign of Extension School

(Story)

Mar 02, 2019

Dexter's Words Spark Controversy

(Story)

Feb 01, 2019

Stand in Solidarity: CRLS Educators Denounce Hate

(Story)

Jan 31, 2019

US Presence in Syria: What If Trump Is Right for Once?

(Story)

Dec 21, 2018

Combatting a Stubborn Culture

(Story/Media)

Oct 31, 2018

Behind the Scenes: First Steps Daycare Caregivers

(Story)

Oct 08, 2018

What to Read Next: Register Forum Editors' Picks

(Story)

Sep 28, 2018

Glocal Implementation

(Story)

Sep 28, 2018

New Chromebook Policy

(Story)

Jun 19, 2018

Being a Parent and a Teacher in Cambridge: A Look at the CPS Family Leave Policy

(Story)

Jun 12, 2018

The Class of 2018, After Making a Difference at CRLS, Goes Out into the Real World

(Story)

May 30, 2018

Diversity in Cambridge: Part 2

(Story)

May 30, 2018

CRLS Responds: What will you miss most about CRLS?

(Story)

May 30, 2018

Samantha Power Speaks to CRLS Students May 1st

(Story)

May 30, 2018

Evaluating the Effect of Online Shopping

(Story)

May 02, 2018

School Committee Continues AV Discussion with April Meetings

(Story)

Apr 25, 2018

Diversity in Cambridge: Part 1

(Story)

Apr 23, 2018

A Look at CPSD's FY 2019 Budgeting Process

(Story)

Feb 26, 2018

A Classic Love Story and a Political Allegory in Casablanca

(Story)

Jan 30, 2018

CRLS Discusses Microaggressions

(Story)

Jan 30, 2018

The Key to Education Is Teacher Pay

(Story)

Dec 19, 2017

Teachers of Color at CRLS: Community Continues Discussion

(Story)

Dec 19, 2017

CRLS Responds: What is your New Year's Resolution?

(Story/Media)

Nov 29, 2017

CRLS Girls Soccer Perseveres through Injuries

(Story)

Oct 31, 2017

School Committee Candidate Interviews

(Story/Media)

Oct 30, 2017

Community Responds to Dr. Seuss Book Controversy

(Story)

Oct 30, 2017

Nuclear War with North Korea: CRLS Weighs in

(Story)

Sep 28, 2017

New England Storm Preparations Begin to Form

(Story)