CRLS Girls Soccer Perseveres through Injuries
The CRLS girls soccer team fought hard through a season filled with injuries and a lack of players, and their hard work paid off. In the regular season, the team won as many games as they lost and tied twice.
Senior Miya Duffy commented, "Taking into account all the injuries and circumstances, we did do well and it was pretty fun."  
Seniors Maggie Pimlott, Sophie Harrington, and Danielle Reeves were captains of the team this year. Pimlott said, "Together we were able to plan practices and really bring everyone together to have a good season."
A highpoint of the season, according to sophomore Margaux Harrington, was when the team "beat [Lincoln-Sudbury] for the first time in awhile." She added, "Everyone was really happy."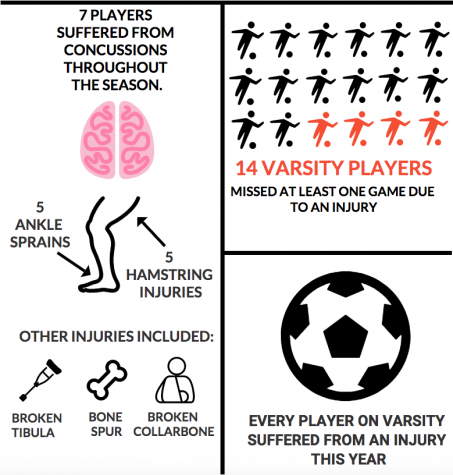 For Margaux Harrington, recovering from a broken collarbone was an ongoing challenge throughout the season: "I guess my goal for the end of the season was to get back to the level of playing I was at before I got injured and to be able to play a full 80-minute game again." She met her goal and by the end of the season was able to play in the tournament game.
This year, like last year, the CRLS girls soccer team made it to the state tournament and played against a Peabody team. However, CRLS was not greeted with a warm welcome.
The CRLS players began the game by kneeling during the national anthem, prompting Peabody fans to boo at them. Later, Peabody fans heckled CRLS players when CRLS was behind in the first half, saying, "That's what you get for kneeling." They continued taunting CRLS with this phrase until after the game.
Carmela Pucci, the mother of CRLS player Leilani Pucci '18, wrote in an Instagram post, "Shouldn't have been shocked that after we lost 2-1, despite a great game, an elderly white woman would wait to get near us on the way out and say, 'That's what they get for kneeling.'"
The CRLS team also didn't have many of its own fans present, since the fan bus for the game was canceled 15 minutes before it was supposed to leave.  
According to Tom Arria, the CRLS Athletic Director, the fan bus was canceled because only four people had turned in their permission slips by Friday morning and the Athletic Department couldn't find a faculty member to chaperone the bus.
Margaux Harrington remarked, "On the bus ride [to the tournament game], everyone was so excited and nervous, but that changed when our fan bus was canceled by the athletic director … That really distracted everyone from the game."
Despite their rocky start, CRLS put up a good fight against Peabody and got control of the ball in the second half, scoring a goal courtesy of sophomore Phoebe Smith.
Pimlott explained, "We started off slow and kind of nervous, which resulted in Peabody scoring two goals in the first half. Then we picked it up in the second half by becoming more aggressive and playing smarter soccer. We ended up scoring a goal later in the second half and made a last push to tie it up."
Senior and boys soccer co-captain Ajani Acloque, who watched the game, said, "[CRLS] played with more heart and effort [than Peabody did]. Peabody only got two lucky chances, but they never created anything. Rindge created opportunities and put tons of pressure on Peabody towards the end."
Ultimately, Peabody defeated CRLS 2 to 1. Duffy commented, "We went into the tournament looking for redemption. Everyone really played their hardest, and we were all really disappointed that we didn't move on to the next round."
The CRLS girls soccer team ended their season on a high note when multiple players received awards from the Dual County League. Sophie Harrington, sophomore Fanny Lodge, and Pimlott were chosen as Dual County League All Stars. Pimlott and Sophie Harrington also received the Coaches Award, Reeves was awarded Most Valuable Player, and Kalkidan Mamo '19 was voted most improved. Finally, Lodge led the team in goals, scoring 14 goals, and Sophie Harrington led the team in assists.
Pascal Beckert-McGirr also contributed to this piece. Click here or here for more photos from the girls soccer season. This piece also appears in our November print edition.