Best Books to Read During Quarantine
Register Forum Editors Share Their Favorites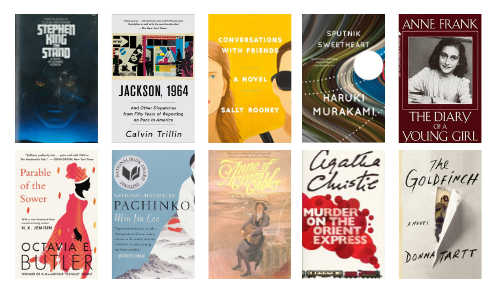 Willa Frank: Conversations With Friends (Sally Rooney) 
Conversations With Friends offers a window into the life of Frances, an Irish university student who writes and performs poetry. Surrounding Frances are a circle of characters, notably Bobbi, a beautiful, charismatic, and confident young woman, and Nick, the husband of a photographer Bobbi and Frances meet at a poetry performance. Although the plot of Conversations With Friends could be classified as romance, it certainly isn't a sappy novel. It is a book full of wit and wry and surprisingly relatable observations. Sally Rooney is a brilliant writer whose lucid and luminous work puts words to so much unsaid commonality among us.
Leo Barron: Jackson, 1964 (Calvin Trillin)
Jackson, 1964 is a compilation of Calvin Trillin's articles for the New Yorker on the Civil Rights Movement. The book explores many different parts of the movement, from voting registration in Mississippi to race relations in Boston. It is a remarkably written work and a quick read, making it a perfect book for the quarantine, especially if you enjoy nonfiction. If you want a true first-hand experience of the civil rights movement, this is the book for you.
Will Bavier: The Stand (Stephen King)
The Stand, by Stephen King, is a post-apocalyptic fantasy and horror novel published in 1978. Although it is a long book (823 pages), it is a timely read for the current global pandemic. The plot centers on a pandemic of a modified strain of influenza that almost kills the world's entire population. The first half of the book focuses on how quickly the virus spreads and how suddenly people die. There are some supernatural elements, but King doesn't overdo it by any means. Each chapter switches perspective to showcase different accounts of the pandemic, and characters are brought together to overtake the greater evil at hand.
Juliana Vandermark: The Diary of a Young Girl (Anne Frank)
Now, more than ever, I am finding myself thinking back to the words and ideas of Anne Frank in The Diary of a Young Girl. During World War II, Anne Frank kept a diary while in hiding, which her father later published and released as a book. While it would be ignorant to try and equate our experiences and circumstances to hers, reading this book while in quarantine offers the opportunity to reflect on our lives and hers, and to find the aspects of human experience that link us all together. Besides the commonalities illustrated by this book, it also highlights our privilege and the differences between our situation and hers. To read The Diary of a Young Girl is to disappear into another world completely and to live a life vicariously, making it a book that will allow you to escape our own. 
Luca Johnson: Sputnik Sweetheart (Haruki Murakami)
Sputnik Sweetheart features a male protagonist named K, who is a 25-year-old elementary school teacher. K is in love with his friend Sumire, a mysterious aspiring writer, who finds herself attracted to an older woman named Miu. Miu is magnetic and surrounded by an aura of wealth and elegance. After a mysterious call from Miu, all three characters are set on a journey which leads them to the islands of Greece, and outside of the bounds of reality. A tale of unrequited love and adventure, Sputnik Sweetheart is a fun and profound read.
Isabelle Agee-Jacobson: Pachinko (Min Jin Lee)
Pachinko is the perfect book to read if you are stuck at home right now—it is artfully written yet easy to read. It's also almost 500 pages long, so it will provide you with entertainment for a long while. It chronicles the multiple generations of a Korean family living in Japan—the narrative begins when the daughter of a disabled fisherman, Sunja, falls in love with a wealthy tourist and becomes pregnant. While he offers to support her and the child, Sunja's lover is already married. Not willing to be dependent on someone who would not fully commit to her, Sunja decides to leave the only home she's ever known and marry a sickly minister. Sunja's decision begins a familial saga that lasts generations. This book provides a window into the Korean immigrant experience in Japan throughout the 20th century while offering uniquely compelling perspectives from characters who are complex and real, brought to life by Min Jin Lee's exquisite storytelling.
Azusa Lippit: Murder on the Orient Express (Agatha Christie)
This book is perfect for weeks in quarantine; set in a train traveling Europe in the 1920s, the characters are fascinating and the plot takes you through a rollercoaster of certainty and doubt. Detective Hercule Poirot finds himself investigating a murder on the train, and with a fixed number of passengers, the pool of suspects is limited. The details of the investigation are exciting and well-distributed, making it feel like the story is unfolding around you. It's funny, fast-paced, and impossible to put down.
Ada Carter: The Goldfinch (Donna Tartt)
The Goldfinch is a fantastic book filled with powerful language and complex, flawed, yet likable, characters. It centers around Theo, a teenager at the start of the book, who survives an accident that kills his mother. He moves from guardian to guardian, each new home starkly different than the previous, some of which lead him down dark paths. Throughout the book, he is constantly obsessed with a painting (titled "The Goldfinch") which serves as his only true comfort in an otherwise reckless and unstable lifestyle. I love this book for the variety of moods and experiences that Theo faces, and for the writing, which is intensely beautiful. Although long, Donna Tartt's brilliance makes The Goldfinch engaging and perfect for long days at home. 
Ella Spitz: Anne of Green Gables (L. M. Montgomery)
This book is the perfect read for quarantine. It follows a young orphan named Anne Shirley and describes her new life after being adopted into a complicated family. Anne has a strong imagination that takes her on endless adventures—and sometimes makes her wind up in a bit of trouble. Although many see this novel as a classic children's book, the themes encased among its pages are most certainly more "adult" and continue to be relevant. The imagery is vivid, the story is captivating, and—if this is what you are looking for—it will make you forget that there is a pandemic happening at all.
Zoe Fritz-Sherman: Parable of the Sower (Octavia E. Butler)
Octavia E. Butler's novel Parable of the Sower imagines an apocalyptic America—eerily similar to our present situation—where an economic and environmental crisis leads to the crumbling of society. The story follows Lauren Olamina, a minister's daughter and hyper-empath (someone who is debilitatingly susceptible to the pain and emotions of others), after she loses her home and family to a fire, and sets out on a journey north across dangerous coastal highways. Quickly, what starts as an expedition purely based on self-preservation becomes revolutionary, as Lauren reflects on human destiny and births a new Darwinian religion called Earthseed.