A Classic Love Story and a Political Allegory in Casablanca
Falcon Rating: 4/4
Originally released in 1942, Casablanca is an iconic love story perfect for Valentine's Day. But what really makes Casablanca worth watching—even 75 years after it was released—is how it layers political and philosophical themes adeptly into the relationships of the four main characters.
The film takes place during World War II in French-occupied Casablanca, Morocco, which had the unique position of being a holding place for refugees escaping from Nazi-occupied Europe. Rick Blaine (played by Humphrey Bogart) owns a café in Casablanca where, through the black market, refugees and local opportunists make deals on the exit visas necessary for leaving the town.
Rick, however, does not take part in this deal-making. He is aloof and neutral when it comes to the war. As he famously says multiple times throughout the film, "I stick my neck out for no one." However, Rick's world is shaken when Victor Laszlo—a leader of the underground movement against the Nazis—comes to Casablanca with his wife, Ilsa Lund (played by Ingrid Bergman). Ilsa and Rick had a love affair in Paris, and seeing her reminds Rick of feelings he prefers to forget.
Bogart and Bergman became legends in American cinema with their roles in Casablanca, for which they were perfect fits. Bogart is appealing as an impeccably dressed man who acts on the fly and for his own interests, but he clearly has a deeper story as well. Bergman falls easily into the role of an elegant and attractive woman who is conflicted between her own feelings and what she thinks she should do.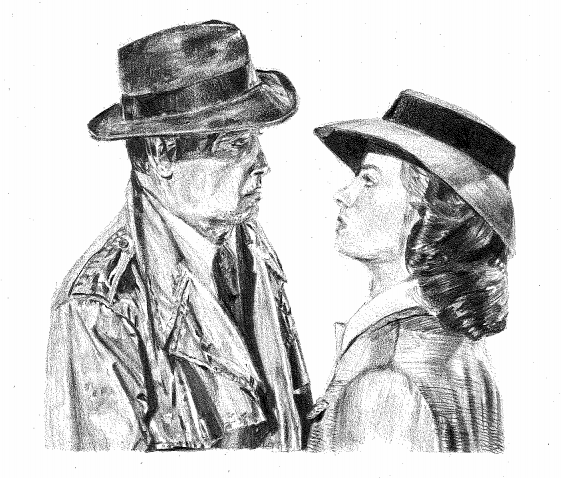 Miriam Alvarez-Rosenblum
Rick consistently rejects Ilsa and her explanations of why she left him, seeming at times even cruel, but Bogart uses this cruelty to show the audience Rick's pain. Bergman expresses Ilsa's pain very convincingly, and she reveals to Rick why she left him. She does not want to, as it would benefit them both to simply move on, but the pain she feels for hurting Rick is great—and so, she slowly lets everything out.
Casablanca is also a political allegory of World War II. Rick Blaine represents the United States, which initially insisted that it should be neutral in World War II. However, when the United States was bombed at Pearl Harbor, it had no choice but to get involved. Similarly, when politics and "the cause"—fighting the Nazis—are intertwined with his personal life, Rick sees no choice but to take a stand.
Captain Renault, the police chief of Casablanca, represents France during World War II. At the beginning of the film, Renault appears to be a Nazi supporter. However, the final scene of the film makes it clear that he is not. The film ends with Rick saying to Captain Renault, "Louis, I think this is the start of a beautiful friendship"—a metaphor for the alliance that France and the U.S. made when they joined the anti-Nazi coalition.
Casablanca grapples with questions about love, sacrifice, and self-interest. In the first part of the film, Rick is bitter towards Ilsa for leaving him in Paris and doesn't want to help her or her husband leave Casablanca. However, by the end of the film, Rick overcomes these feelings to show that his love for Ilsa is true, and that he is an idealist who cares. By this point in the film, Ilsa's influence is clear. While in some parts of the film it seems like Ilsa's role is to be on the sideline, she is what forces Rick out of his cynicism and inspires him to fight the Nazis.
With its wonderful acting and a riveting storyline, complete with fully fleshed-out characters, Casablanca offers a window into the past that everyone should experience, whether on Valentine's Day or any other day of the year.
This piece also appears in our February print edition.