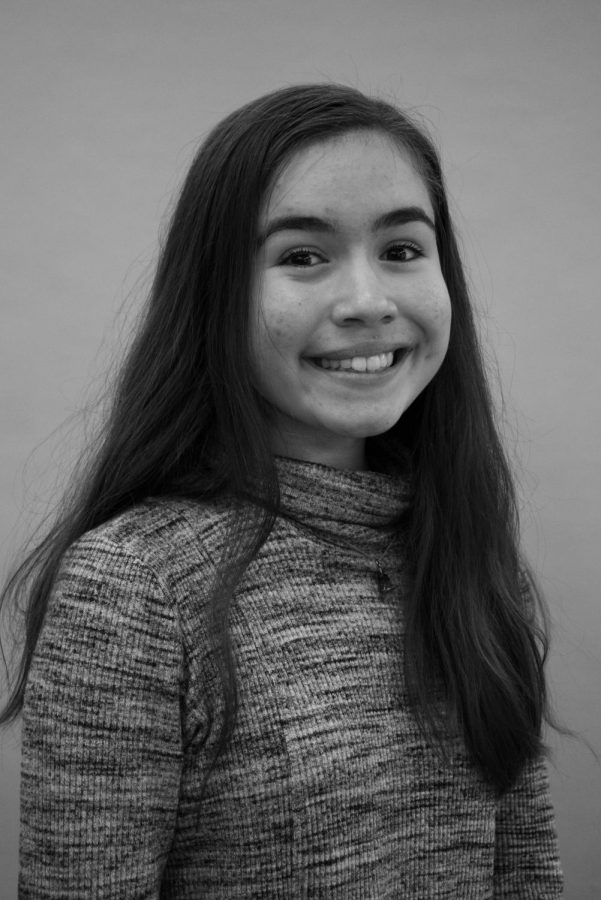 What elementary school did you go to?
Belmont Day School
What other activities are you involved in at CRLS and/or in the community?
Club 4, Book Club
If you could interview anyone, dead or alive, who would it be and WHY?
I would interview Jane Austen because I could ask her to speak for as long as she wants about any subject, and also to teach me how to write dialogue.
Azusa Lippit, Assistant Managing Editor
Dec 26, 2020

Biden Seeks to Restore Qualification to the White House with Nominated Cabinet Leaders

(Story)

Dec 22, 2020

"Waste-Deep" in the Holidays, Cambridge Evolves Toward Sustainable Gift-Giving

(Story)

Dec 02, 2020

Minimum Wage to Confederate Flags: The 2020 Results of Statewide Referendums

(Story)

Nov 30, 2020

New Teacher Spotlight: Ms. Sandrea Lovelock-Williams

(Story)

Nov 02, 2020

CRLS' First Virtual Club Day A Success Despite Online Limitations

(Story)

Oct 31, 2020

CRLS Investment Club Reflects Growing Student Interest in Finance

(Story)

Oct 10, 2020

Massachusetts Needs Ranked-Choice Voting: A More Democratic Voting System

(Story)

Oct 06, 2020

School Committee Moves to Condemn Continued Use of Harmful Mascot

(Story)

Jun 17, 2020

Virtual Women in Politics Forum Brings Cambridge Leaders Together in Conversation

(Story)

Jun 16, 2020

CRLS Seniors Say Goodbye at Virtual Graduation 2020

(Story)

May 30, 2020

The South Leads the Push to Reopen the Economy

(Story)

May 28, 2020

Food Businesses Navigate Social Distancing Mandates with Support From Cambridge Community

(Story/Media)

Apr 29, 2020

Gather Here Rallies Around Homemade Masks

(Story)

Apr 24, 2020

The New Normal for CRLS Educators: Teaching While Parenting

(Story)

Mar 23, 2020

Amgen Scientists Visit CRLS to Discuss Careers in Biotech

(Story)

Mar 08, 2020

Latin Brought to Life at CRLS

(Story)

Dec 23, 2019

#HerVote Club Mobilizes Women for 2020 Elections

(Story)

Dec 08, 2019

Training the Next Generation of Health Professionals

(Story)

Nov 11, 2019

Robin Chen and Her Fight for Youth Enfranchisement

(Story)

Nov 07, 2019

Preventing the Flu This Season

(Story)

Oct 30, 2019

School Committee Candidate Interviews

(Story)

Oct 09, 2019

No Rebuttal Necessary: Speech and Debate Club Has Entered a New Era

(Story)

Oct 05, 2019

CRLS' Summer Trip to Japan

(Story)

Oct 05, 2019

New Teacher Spotlight: Ariane Berelowitch

(Story)

Oct 05, 2019

Quentin Tarantino: The Man vs. His Art

(Story)

Jun 17, 2019

Blast From the Past: June 1944

(Story)

Jun 16, 2019

The Class of 2019 Graduates: After Years of Hard Work, the Seniors Are Ready to Say Goodbye

(Story)

Jun 15, 2019

CRLS Climate Change Initiative Launches with Assembly

(Story)

Jun 06, 2019

Behind the Scenes: Banking Operations

(Story)

Jun 04, 2019

2019 CRLS Scholarship Night

(Story)

May 08, 2019

Why and How There Was a Change in the US History Curriculum

(Story)

May 01, 2019

A Look at Robotics Club: How It's Wired

(Story)

Mar 02, 2019

EHChocolatier Opens a New Shop in West Cambridge

(Story)

Oct 30, 2018

2018 Midterm Elections

(Story)