CRLS Climate Change Initiative Launches with Assembly
Hang on for a minute...we're trying to find some more stories you might like.
On Thursday, May 23rd, biology teacher Mr. McGuinness and several student leaders organized an assembly to kick off the CRLS Climate Change Initiative, which will begin the fall of the 2019-2020 school year. Mr. McGuinness explained the purpose of the initiative to the Register Forum, saying, "Our goal is to support teachers [who are] encouraging students to do interdisciplinary projects that involve climate change. These projects can be anything reasonable that is interesting to students and has the potential to make a real difference." He hopes to incorporate climate change into the curriculum of any class in order to  "change how people think about how they interact with the planet."
According to Emma Weller '20, a participant in the project, the program's inaugural objective is to create "a school-wide initiative run by the students—anyone who has an idea can come to Mr. McGuinness and it will be implemented." Weller explained, "We want to give more of a forum for students who are passionate and angry about climate change."
The assembly began with a video of 16-year-old Swedish climate activist Greta giving a speech at the United Nations Climate Conference in December of 2018. The speech effectively highlighted the need for a dramatic reduction in greenhouse gas emissions in countries all over the world, but particularly those with greater resources, if the worst effects of climate change are going to be avoided. In the video, Thunberg referenced the countless species going extinct daily and the lack of serious problem solving on the part of national governments. She emphasized that  "We can't save the world by playing by the rules. Because the rules have to be changed."
"
The greatest false belief is thinking that you have to choose between fighting for the climate and for justice. It is imperative that we do both."
— Reverend Mariama White-Hammond
Representatives of the 2019 Glocal Challenge winning teams also presented at the assembly. This year's Glocal challenge was to come up with an idea that could effectively communicate the realities of climate change to Cambridge residents. One of the 2019 Glocal winners, Alex Kim '21, spoke at the assembly and said he is looking forward to participating in the Climate Change Initiative. Kim reflected on his experience with Glocal and its connection to issues like climate change, "Glocal gives people an opportunity to get involved with things they normally wouldn't in high school, like climate change."
Reverend Mariama White-Hammond, pastor at the New Roots Church in Dorchester, MA shared her story at the assembly as well. Her passion for fighting climate change stemmed from her work in the prevention of juvenile incarceration, where she would go to disadvantaged communities to help kids who are at risk of incarceration in high school or have been incarcerated in the past. This work spread across the country, and Rev. White-Hammond saw the effect of the lack of government action on climate change in these less affluent neighborhoods in which houses were being destroyed by floods and hurricanes. She went on to become fully committed to climate justice after Hurricane Katrina devastated such communities along the Louisiana coast. Rev. White-Hammond also addressed her regret about the message commonly being communicated about what climate change will do to the planet: "It is not whether the Earth will still be here, but whether we as a species can survive in the climate." Rev. White-Hammond told the Register Forum that she would advise students with environmental enthusiasm to be careful, as "the greatest false belief is thinking that you have to choose between fighting for the climate and for justice. It is imperative that we do both." Rev. White-Hammond herself has been able to use her public position to raise awareness about multiple issues she cares about, and she would encourage others to "Figure out what matters to you in the world and how you can use it to help a cause that you care about, like climate justice."
The assembly closed with a performance of the song "One Candle" by J. Ralph and Sia from the 2015 documentary "Racing Extinction" performed by Hanna Carney '19, Grace Van Bever '22, Keefer Glenshaw '22, Ellen Jacobson '21, and Itamar Baz '20.
Once the attending students had left the auditorium at the end of fourth period, Mr. McGuinness gathered the organizers of the assembly and thanked them for their hard work in putting the day together. Handing each of them a blue marble, he explained, "We have one planet; when you look at it from space, or the moon, there are no geopolitical boundaries. All you see is a tiny little blue marble. Seeing it that way shows you how connected we all are."
About the Writer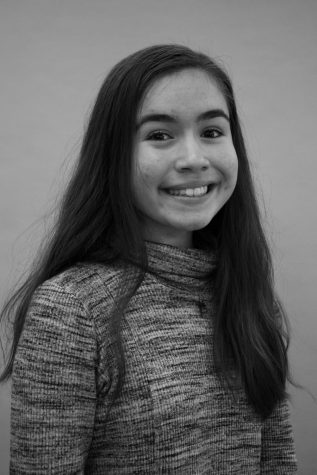 Azusa Lippit, Around School Editor
What elementary school did you go to?

Belmont Day School

What other activities are you involved in at CRLS and/or in the community?

Club 4, Book...