#HerVote Club Mobilizes Women for 2020 Elections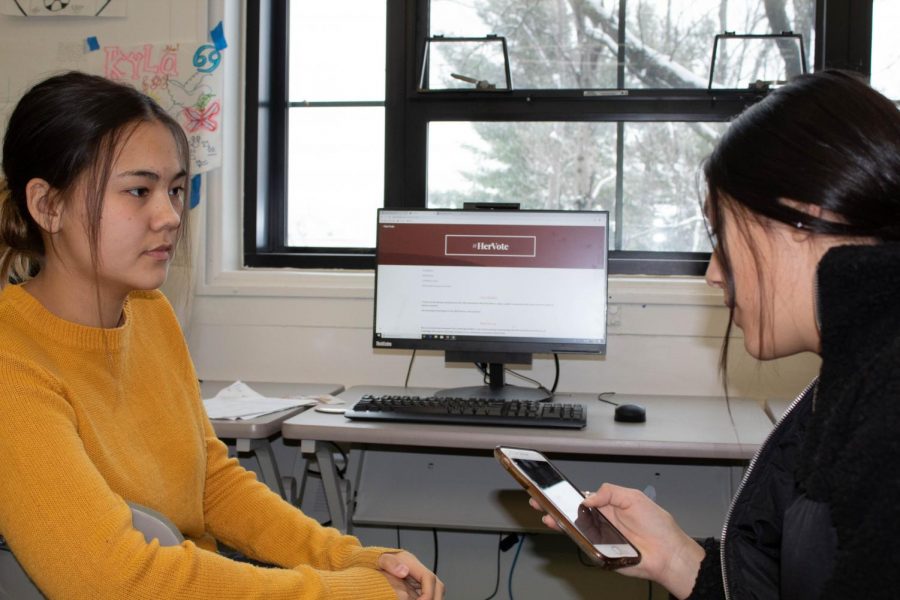 The newly formed #HerVote club at CRLS is pushing the limits of what a student-led group can do within their community. Through a collaboration with the Radcliffe Institute at Harvard University, club members interview women of all backgrounds to collect data on their intentions of voting in the 2020 elections. Mr. Marlin Kann was approached by the Institute earlier this year about creating a curricular component in his history classes to bring about discussion on the evolution of women's suffrage and its prevalence today, which transformed into the #HerVote club. "The club was started through a partnership between the Radcliffe Institute, the Schlesinger Library on the history of women in the Americas, and the City of Cambridge. In 2018, Radcliffe started planning for their 2020 symposium on the passage of the 19th amendment (which provides some women the right to vote)."
The club collects data from women around Cambridge through connections from the city, the Radcliffe Institute, and from the Schlesinger Library itself. Through their interviews and collections, the club emphasizes the ways in which citizens can participate in an election apart from voting itself. These ways include helping others get to the polls through something as small as babysitting, as well as encouraging informed voting on social media. Kann elaborates, "Everything that we collect, including any tweets posted with the 'hervote' hashtag, will then be preserved by the Schlesinger Library in perpetuity."
Within the club, members train to become interviewers and obtain the best information possible. Anyi Folkers'21 states, "[what drew me in] is the aspect of women. At the time I was just going into my women's studies class, and we were learning about different women's issues and it seemed really interesting to me. I also had no idea how to contribute [to an election] other than going to the polls and actually voting. It's widened my perspective on what I can do even though I'm not 18."
The data that the club collects will be preserved and used by future researchers of women's suffrage. Even at the end of this year, club member Claudia Dyer '20 is "looking forward to being able to look back at the end of the year and see what's been contributed and see if patterns emerge within the data." Along with an interest in the work, Dyer's inspiration to get involved with the club stems from her ability to vote in the upcoming election. She explains, "I think generally voting rights are a very charged topic. Especially right now, politics are a very pressing issue. The ability to contribute and take a different perspective on politics and voting is so interesting, and also to hear outside opinions, because I'll be 18 [in 2020]."
Christopher Montero, another United States History teacher and active participant within #HerVote, explains his motivation for involvement with the club, "The most exciting part [of forming the club] was getting a whole group of young people active and participating in the election. A lot of teachers have been doing some great work in teaching all the ways in which students can participate, and that's really what it's all about for me. Given the state of our nation… the state of our school and the climate here right now, I think the solution is more participation and more action, not less. Every little thing we do that pushes us along in that direction is going to make us feel better… while actually getting things done."
The club meets Thursdays after school in room 4405, and more information can be found on www.hervote.net. 
This piece also appears in our December 2019 print edition. 
About the Contributor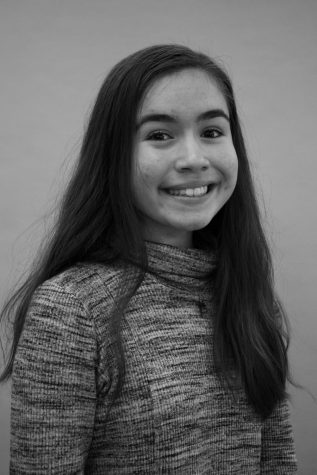 Azusa Lippit, Around School Editor
What elementary school did you go to?

Belmont Day School

What other activities are you involved in at CRLS and/or in the community?

Club 4, Book...