CRLS Seniors Say Goodbye at Virtual Graduation 2020
Not many could have predicted the circumstances under which the Class of 2020 would say goodbye to their time at CRLS. Graduating seniors across the country have felt their lives turbulently shift from those of comfortable students around familiar peers to young adults thrown out of high school. With an unprecedented virtually streamed graduation ceremony, the students and other viewers throughout Cambridge gathered on Thursday, June 11th to recognize their accomplishments while at CRLS. 
Streamed at 6 PM on the Cambridge Community Television network, the ceremony was opened by CRLS Vice Principal Robert Tynes. Though put together digitally, the usual CRLS graduation customs were able to take place, including the national anthem performed by Meley Alemtsehay '20 and the Pledge of Allegiance. The class was then greeted in some of the 19 languages spoken by the Class of 2020, with videos of students speaking Portuguese, Urdu, Arabic, Spanish, and Tigrinya, among others. A performance of Jorge Drexler's "Al Otro Lado Del Río" was given by the World Jazz Ensemble, directed by Mr. Guillermo Nojechowicz. The group was able to perform together even in their separate homes, featuring an uncompromised assortment of musicians including seniors Amelia Bronfman on clarinet, Itamar Baz on bass guitar, Anthony Nichols on guitar, and Lewis Bryant on trombone. 
The program ensued with speeches by Salutatorian Connor Purcell '20 and Principal Damon Smith. Both speeches highlighted the remarkable accomplishments of the Class of 2020 throughout its time at CRLS. Purcell was particularly impacted by the activism displayed by his peers. "As soon as I got to this school I realized that it's full of people who speak out and demand that their voices are heard. I remember our sophomore year, on March 7th, 2018, we all walked out of class in response to the Parkland shooting … Today we have students attending and even leading protests. These moments watching my classmates as leaders have taught me about the power of community building and activism."
Each year, the four outstanding CRLS faculty awarded the Faculty of Distinction Award are revealed and recognized during the graduation ceremony. These faculty are voted on and chosen by the graduating class for their exceptional teaching and leadership both in the classroom and in extracurricular school activities. This year's recipients were US History teacher Mr. Christopher Montero, Biology teacher Ms. Janira Arocho, English teacher Mr. Brendon Snyder, and Criminal Justice teacher Ms. Dionne Campbell.
"
But I beg of you, do not forget … the time you have spent here."
— Simon Simpson '20
Valedictorian Jesse Lowe '20 emphasized the heavy responsibilities shouldered by many graduating seniors. "I have the opportunity to give this speech today because I succeeded academically, but that is only one of many many ways that CRLS students have earned the right to recognition … My classmates have raised children, supported families, and learned English as a second language. This platform rightfully belongs to the survivors of sexual assault and harrassment, who led a walkout and spoke out in front of the entire school. This platform belongs to my classmates who had the courage to speak up and create their own record of the discrimination that they faced in school." Lowe continued, "This may be a somber speech, but it was written during and for somber times. I am radically hopeful that every crisis will not only expose new flaws in our systems but galvanize us to fix them."
With a somewhat different message, Senior Class President Emma Weller '20 and Student Body President Simon Simpson '20 were eager to address the importance of finding positivity within the abnormalcy of this past semester. Weller explained, "It all seems so unfair that we have to miss these fabulous things that every grade ahead of us got to experience. I can't give us a senior spring, but I'm hoping that in this ceremony we'll still get some of those beautiful feelings of community, unity, and fun that we missed." With a similar message, Simpson concluded, "In this time we are in, there is a sense of desperation to see what will happen next. But I beg of you, do not forget … the time you have spent here. Take today and reflect upon the journey that we have had. Tomorrow will come and bring its challenges, but we can always cherish today."
About the Writer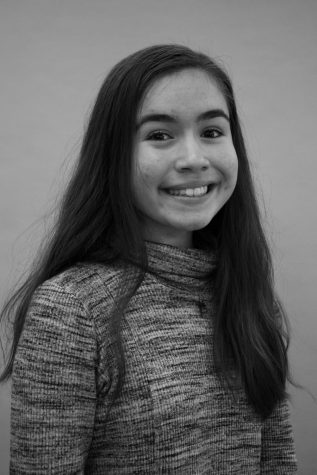 Azusa Lippit, Assistant Managing Editor
What elementary school did you go to?

Belmont Day School

What other activities are you involved in at CRLS and/or in the community?

Club 4, Book...