Food Businesses Navigate Social Distancing Mandates with Support From Cambridge Community
With social distancing guidelines in place for Cambridge, businesses selling food have continued to operate, though not without a fair amount of difficulty. Safely procuring food is one of the biggest concerns for Cantabridgians staying in their homes, and it is up to local businesses to take measures to protect their staff and customers. Richard S., a manager at Broadway Market, told the Register Forum, "We've had to come up with different options: online ordering, curbside pickup, and senior hours. We have the whole store protected with plexiglass, and everyone is wearing masks and gloves." 
Broadway Market, located next to CRLS, is normally filled by students and teachers throughout the school day, but with no school, that has changed. As far as the location goes, Broadway is incredibly fortunate; conveniently in the flow of traffic as students go to and from school, a significant portion of business comes from CRLS holding classes on campus. Businesses neighboring the school are particularly feeling  the absence of students. "Financially… we're maintaining, let's put it that way," Richard S. continued. "We hope to get back to some semblance of normal, but hopefully [CRLS and Harvard students] will be back in school eventually, lunches will be back, and our revenues will change."
"
You're as safe as the least safe person you're in contact with, so if we shut out all the variables of unknowns, which are the customers, we could keep ourselves and our standards really high and safe."
— Julia Hallman
Darwin's Ltd., another very popular lunch spot among CRLS students and teachers and a beloved sandwich shop throughout Cambridge, has experienced some difficulty from a lack of patronage. Co-owner Isabel Darwin told the Register Forum in an email, "The biggest impact on the business was the precipitous decline of daily sales and the immediate layoff of 80% of our staff." Darwin's has been forced to close their Putnam Avenue location, one of four throughout Cambridge. This closure, along with a drop in revenue, was due to a large portion of staff feeling uncomfortable commuting to work as they had before the pandemic. According to Darwin, "[Our employees] were traveling with the public at large who were not respecting the social distancing mandates." The cafe chain hopes to reopen their Putnam Ave. location. "As more and more people start to venture outside," Darwin explained, "we feel that having a solid footing and attached cash-flow already underway will serve to keep the momentum going."
On the other end of the spectrum is Julia Hallman, General Manager at Formaggio Kitchen Cambridge, who has seen a very positive response from customers in the community. "It's just not easy for people to go to places like Whole Foods and wait an hour in line," Hallman told the Register Forum. "We are offering same-day delivery, whereas in a lot of these larger models like Instacart and Amazon, it could take a week to get an order. But that's the benefit of being a small business … We can cater to our local customers."
With a background in public health, Hallman was quick to formulate a response to combat the spread of the virus. "With insight on epidemiology and the spread of disease, my first priority was how do I keep the staff safe and how do I keep us open as long as possible," Hallman explained, "I pretty quickly came to the conclusion that we needed to shut the doors to customers, before any of the mandates. You're as safe as the least safe person you're in contact with, so if we shut out all the variables of unknowns, which are the customers, we could keep ourselves and our standards really high and safe."
René Becker, owner of popular Cambridge bakery Hi-Rise Bread Co., was less inclined to make the transition to online business, but soon became acclimated and even expanded the bakery's services. "Hi-Rise had never entertained the idea of online ordering," Becker told the Register Forum in an email. "It didn't really fit our business model—or so we thought. Online ordering proved very helpful for everyone. Customers could easily see what we offered and choose what they wanted," Becker explained, "I've been trying to insert descriptions of our products whenever I have a spare moment." Now, about half of Hi-Rise's orders are made online. 
Bakeries in Massachusetts were permitted to begin selling groceries in early April by Governor Baker, and Hi-Rise has taken advantage of this opportunity. The bakery now sells baking essentials, such as milk and yeast, and even produce, including kale and watermelons. "Grocery products are much in demand right now and customers love the fact they can order produce … and pick it up safely and conveniently outside the store." Becker said, "While it's unusual selling these items, it isn't unusual for me to buy them. I shop where the supermarkets shop."
While there are certain risks to staying open, grocery stores feel a responsibility to do so. Richard S. has heard that the public is "Very happy that [Broadway Market] is here and that we have products. We have limited hours, but we're open. We've gotten a lot of positive feedback from our customers." At Darwin's, staff members are also encouraging the business to stay open: "As owners … we were not going to ask anyone to come to work who did not feel safe doing so. The other staff members voiced their desire to remain open and continue to come to work. So, we continue to operate and this staff retains their employment as long as they are willing and able."
Becker stated, "It's difficult to say at this point how this experience will change Hi-Rise, but make no mistake, change it will. Life just won't be the same, even after a vaccine is found and widely available." Looking forward, Becker concluded, "No one knows what the 'new normal' will be. All we can do is stay healthy, stay as safe as possible, and help each other as much as possible."
About the Contributor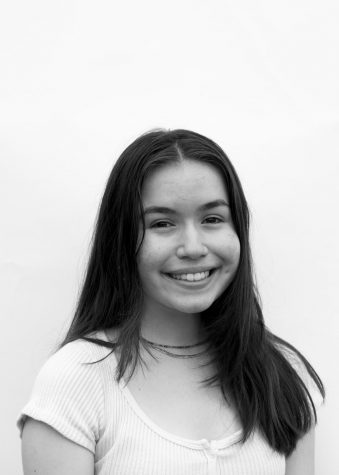 Azusa Lippit, Editor-in-Chief
Pronouns: she/her

What is your favorite album of music?
The Miseducation of Lauryn Hill by Ms. Lauryn Hill, or Bridge Over Troubled Water by Simon...