The Dangers of Performative Society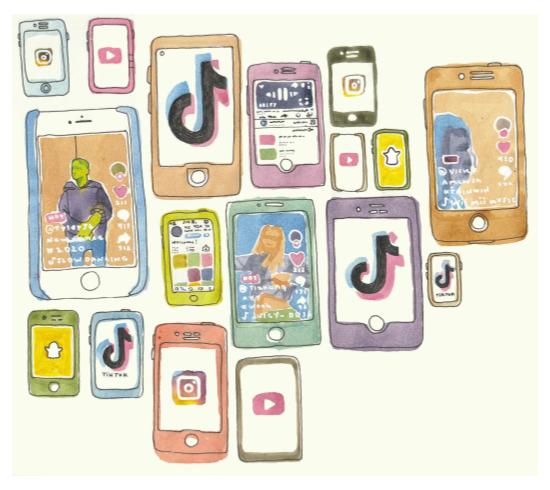 The space in our lives once occupied by magazine ads and television jingles has been replaced with the ever-flowing stream of social media. With the rise of technology designed to increase social media's accessibility, the norms pushed by marketing have become increasingly prolific. And with it, the platform for status and "clout" has become far more accessible. The increased amount of media fed to the common person has led to a confusing whirlwind of messages telling us who we should be. This onslaught is ultimately harmful to the perception of self and societal norms.
Instagram, which was launched in 2010, has gone from a casual social platform to one that supports curated and idealistic photos and videos. While individual profiles of the average teen do contribute to the utopian vision that Instagram promotes, they are likely emanating celebrity or "influencer" profiles. Today's influencers often have over a million followers on social media, and they use this base to advertise for companies who pay them for their public endorsement of products. These products range from plant-based yogurt to Gucci flip-flops to Thrasher skateboards or even influencers' own products. For example, Kylie Jenner, who has 158 million followers on Instagram, often promotes her own line of cosmetics through the projection of an idyllic but widely unattainable lifestyle for the average American. Influencers and celebrities pollute the platform with a constant stream of images telling us what we should look like, buy, eat, and how we should live our lives. This overwhelming chatter residing in our phones is difficult to tune out and blurs our perception of self. By projecting a highly edited illusion of ordinary life, high-profile Instagrammers have warped our sense of "normal."
TikTok, similar to Instagram, is a "music" app that has become much more than just that, quickly becoming filled with videos of dances, memes, comedy skits, and more. The identity of the app has changed, and the original purpose (to dance along and lip-sync to songs) has turned into a fight for attention. These posts are used to flaunt status or beauty, perpetuating sex-crazy and sometimes misogynistic stereotypes as a norm for the consumer. Influencers gain attention through surface-level attraction and the consumer follows them in hopes to gain; whether this is the gain of inward solace or public positive association, it is damaging to the psyche to constantly rely on these messages.
"
The increased amount of media fed to the common person has led to a confusing whirlwind of messages telling us who we should be."
When aligning genuity with these materialistic values, it is easy to lose the ability to distinguish one from the other, which can also negatively affect mental health. According to an article from Child Mind Institute, a large cause of social media-based depression is from the unrealistic standards set by it that have damaging effects not only to the most frequent users but to younger populations as well.
The conundrum set by our need for fame as well as self-contentedness produces unhealthy side effects, and once-friendly networks that allowed people to share their everyday lives are now platforms for the convoluted process of self-fulfillment. Social media, in the worst cases, has provided harmful messages for the user, telling them who to be and devaluing the true "ordinary." While social media does have short-term benefits, such as being able to keep in touch with old or far-away friends, we must grapple with the fact that our ordinary lives are losing value as we struggle to brighten everything with glossy falsity in order to meet the status quo. It is this far-reaching harm that overshadows the benefits of social media and poses a much greater threat.
This piece also appears in our January 2020 print edition.