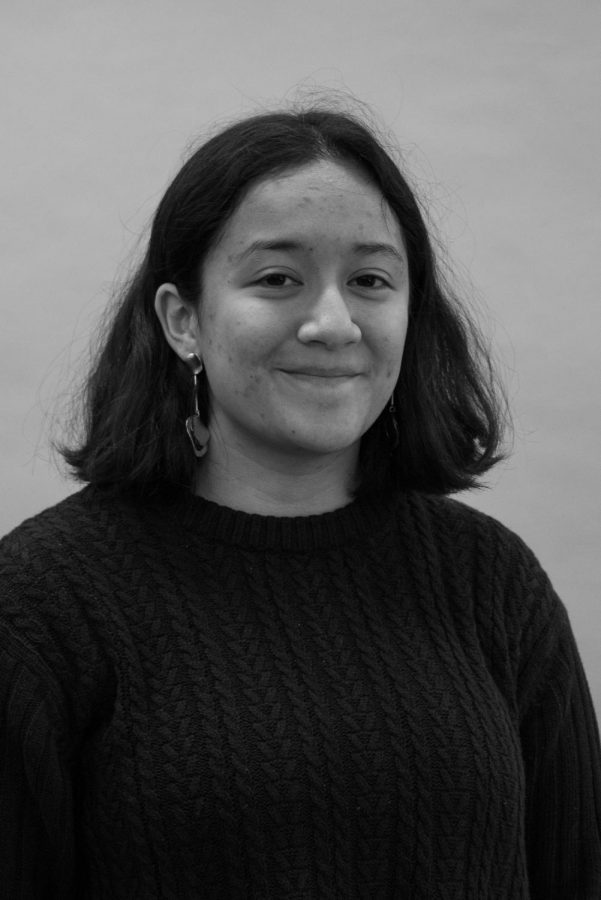 What elementary school did you go to?
Baldwin
What other activities are you involved in at CRLS and/or in the community?
Orchestra, Artists For Humanity, Glocal
If you could interview anyone, dead of alive, who would it be and WHY?
I would love to interview Randy Fenoli from Say Yes to the Dress. He just seems like a genuinely great person and his name sounds like cannoli.
Lara Garay, Illustrations Editor
Dec 26, 2020

Biden Seeks to Restore Qualification to the White House with Nominated Cabinet Leaders

(Media)

Dec 23, 2020

2020-2021 NBA Season Predictions

(Media)

Dec 23, 2020

Ranking the 2020-21 NBA City Edition Jerseys

(Media)

Dec 22, 2020

The Word of the Year: Pandemic

(Media)

Dec 22, 2020

Democracy's Greatest Threat: The Electoral College

(Media)

Dec 22, 2020

The Movies to Watch for in 2021

(Media)

Dec 22, 2020

Senate Runoffs in Georgia: A Crucial Battle for Control of the Nation

(Media)

Nov 05, 2020

An Overview of the Final Presidential Debate

(Media)

Nov 03, 2020

A Recap of the 2020 Boston Celtics Season

(Media)

Nov 01, 2020

The Reality of a Winter Sports Season Remains Unclear

(Media)

Nov 01, 2020

How Another Trump Term Will Destroy America's Institutions

(Media)

Nov 01, 2020

A Fraud in the White House

(Media)

Oct 31, 2020

Movie Theaters Struggle & Movie Delays Continue Due to the Pandemic

(Media)

Oct 30, 2020

The Attack on Voting in the 2020 Election

(Media)

Oct 30, 2020

Don't Believe Everything You See on Social Media: The Rising Spread of Misinformation

(Media)

Oct 30, 2020

A Life on Our Planet: Not Your Average Science Museum Documentary

(Media)

Oct 29, 2020

Engineering Students Begin Semester with New 3D Modeling Software

(Media)

Oct 10, 2020

Massachusetts Needs Ranked-Choice Voting: A More Democratic Voting System

(Media)

Oct 09, 2020

Hurricane Sally Wreaks Havoc in the Southeast

(Media)

Oct 09, 2020

1968 and Nixon Might Tell Us About 2020 and Trump

(Media)

Oct 09, 2020

CRLS Should Take the Lead from Private Schools: Go Hybrid

(Media)

Oct 08, 2020

"The Social Dilemma" Tackles Dopamine and Data in the Age of Social Media

(Media)

Oct 07, 2020

Chadwick Boseman: A Powerful Life Cut Too Short

(Media)

Oct 07, 2020

CRLS' #1 Hit of the Summer

(Media)

Jun 18, 2020

Coronavirus Reveals Truths about America's Deep-Rooted Class Issues

(Media)

Jun 17, 2020

COVID-19 Sheds Light On Food Disparity

(Media)

Jun 17, 2020

Why the Police Never Go to Jail

(Media)

Jun 16, 2020

Celebrity Responses to Black Lives Matter Protests

(Media)

Jun 16, 2020

How Quarantine as Affected the Social Lives of CRLS Students

(Media)

Jun 16, 2020

Racially-Charged Killing of Ahmaud Arbery Shakes Nation

(Media)

Jun 16, 2020

The Future of Film in a Post COVID-19 World

(Media)

Jun 16, 2020

White Woman Calls the Police on Black Man in Central Park

(Media)

May 29, 2020

The Coronavirus and the Grading System

(Media)

May 29, 2020

The New England Patriots' 2020-2021 Season Predictions

(Media)

May 27, 2020

"Tiger King": The Story No One Could Make Up

(Media)

May 26, 2020

Meditation: The Path to a Stress-Free Pandemic

(Media)

Apr 24, 2020

The Genius of Jacob Collier

(Media)

Apr 24, 2020

CRLS Reacts to Distance Learning and Having to Do School at Home

(Media)

Apr 24, 2020

IB and AP Classes: What is the Difference?

(Media)

Apr 22, 2020

On Authoritarianism: Why Controlling a Pandemic Does Not Require Limits on Personal Freedoms

(Media)

Apr 22, 2020

Due to the Pandemic, America Is Facing Another Economic Recession

(Media)

Mar 27, 2020

In "F*** The World," Brent Faiyaz Showcases Sorrow and Vulnerability

(Media)

Mar 25, 2020

The TikTok Hype, Explained

(Media)

Mar 23, 2020

Down-Ballot Races Are More Important This Year Than Ever

(Media)

Mar 23, 2020

Media Consolidation is Threatening the Spirit of Journalism

(Media)

Mar 05, 2020

Muslim Culture Club: A CRLS Perspective on Global Islam

(Media)

Feb 05, 2020

"Uncut Gems" Expertly Keeps Audience on Edge

(Media)

Feb 04, 2020

US Killing of Iranian General Soleimani Fuels Tensions

(Media)

Jan 02, 2020

"The Crown": A Royal Success

(Media)

Nov 11, 2019

Inefficacy of Activism Through Social Media

(Media)

Nov 07, 2019

Crackdowns on Youth Vaping

(Media)

Oct 08, 2019

In Six, King Henry VII's Wives Tell Their Truths

(Media)

Oct 05, 2019

"Downton Abbey: The Movie" Is a Gift for Only Loyal Fans

(Story)

May 01, 2019

CRLS Students and Parents Fret Over Future of the UK

(Media)

Mar 30, 2019

Mediocrity in "Velvet Buzzsaw"

(Media)

Mar 02, 2019

Celebrating Black History

(Media)

Feb 02, 2019
Feb 01, 2019

"Beale Street" Doesn't Just Talk, It Dazzles and Moves

(Media)

Dec 23, 2018

"Creed II" Surpasses Expectations, Doesn't Disappoint

(Media)

Dec 20, 2018

Immigration in Cambridge

(Media)

Dec 19, 2018

Participatory Budgeting Results

(Media)

Nov 30, 2018

President Trump Wants to End Birthright Citizenship

(Media)

Nov 29, 2018

Standardizing Classes is More Fair for Students and Teachers

(Media)

Nov 29, 2018

New President of Brazil Is Like Trump, But Worse

(Media)

Nov 29, 2018

Indian Train Crash Kills 58

(Media)

Oct 30, 2018

"Mid90s" Takes You Back

(Media)

Oct 30, 2018

Kavanaugh Hearing Exposes the Sexism of Society

(Media)

Oct 30, 2018

Noname Releases "Room 25" Two Years After Last Album

(Media)

Oct 30, 2018

"A Star Is Born" Shines

(Media)

Oct 30, 2018

Just Another Giraffe

(Story/Media)

Oct 30, 2018
Oct 01, 2018

Rindge Students React to the Kaepernick-Nike Ad

(Media)

Sep 27, 2018

Just a Giraffe

(Story/Media)

Sep 27, 2018
Sep 27, 2018

"Astroworld": A Curation Of Talent

(Media)

Jun 22, 2018

Why You Shouldn't Eat Beef

(Media)

Jun 18, 2018

School Year Comic

(Story/Media)

Jun 18, 2018

The Deficiencies of Test-Taking

(Media)

Apr 25, 2018

"Phantom Thread": A Boring Film in a Pretty Dress

(Media)

Apr 25, 2018

School Committee Attempts to Finalize AV Policy

(Media)

Feb 26, 2018

February Edition Comics

(Story/Media)

Jan 30, 2018

Essay Writing Comic

(Story/Media)

Jan 30, 2018

Anniversary of Trump's Inauguration Sparks Reflection

(Media)

Dec 19, 2017

December Edition Comics

(Story/Media)

Dec 19, 2017

A Look Back at 2017's Best Movies

(Media)

Nov 29, 2017

November Edition Comics

(Story)

Oct 30, 2017

And to the Republic, for Which We Sit

(Media)

Oct 30, 2017

Is the Earth Actually Round?

(Media)

Oct 30, 2017

October Edition Comics

(Story)

Sep 28, 2017

Political Cartoon

(Story)

Sep 28, 2017

September Edition Comics

(Story)