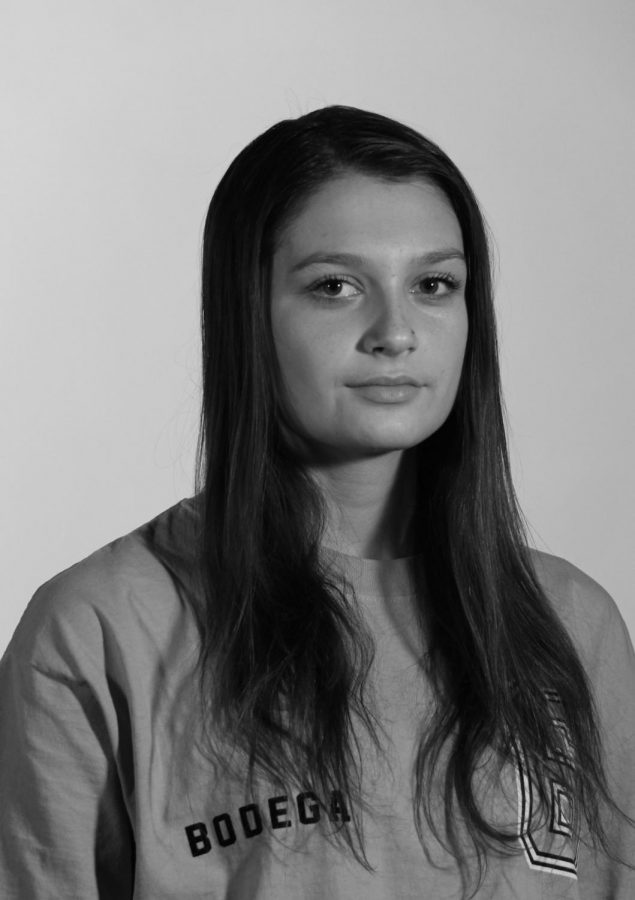 What elementary school did you go to?
Baldwin
What other activities are you involved in at CRLS and/or in the community?
A Capella!! Sailing!!! I work at Darwin's!!! Film!!!!
If you could interview anyone, dead of alive, who would it be and WHY?
Kanye West, because he has a lot to say and I'm curious how his mind works.
Vera Targoff, Managing Editor
Mar 11, 2019

Boys Basketball Eliminated in Second Round of Tournament

(Story/Media)

Feb 28, 2019

The FYRE Documentaries

(Story)

Dec 20, 2018

Winter Sports Preview '18-'19

(Media)

Oct 30, 2018

What to Do this Halloween

(Story)

Oct 30, 2018

José's Homestyle Food Impresses

(Media)

Oct 30, 2018

"Fahrenheit 11/9": Are You Angry? Because You Should Be

(Media)

Oct 08, 2018

What to Read Next: Register Forum Editors' Picks

(Story)

Sep 28, 2018

School Administration Addresses Bullet Found on Campus

(Story/Media)

Sep 27, 2018

BIRD Scooters: A New, Electronic Way to Get Around

(Media)

Jun 22, 2018

CRLS Baseball Team Loses Close Playoff Game Against Newton North

(Story/Media)

May 30, 2018

CRLS Orienteering Wins 2018 Championship

(Story)

May 30, 2018

Athlete of the Month: Zyair Bolling

(Story)

Apr 06, 2018

Friends of CRLS Holds 2nd Annual Spring Bash

(Story/Media)

Mar 21, 2018

Marjory Stoneman Douglas Students Speak at Harvard Kennedy School

(Story/Media)

Feb 26, 2018
Feb 09, 2018

Bring It Black 2018

(Story)

Feb 08, 2018

Coming Out Day Assembly Allows Voices to Be Heard

(Media)

Feb 05, 2018

Women's March 2018

(Story)

Jan 30, 2018

CRLS Students Weigh in on Time's Up, #MeToo Movement

(Media)

Jan 30, 2018

Athletic Department Progresses, Looks to Improve

(Media)

Jan 30, 2018

Cambridge Names New Mayor

(Story)

Jan 30, 2018

Inclusive Extracurriculars Must Be a Priority

(Story)

Jan 16, 2018

Boys Varsity Basketball 1/16/18

(Story)

Jan 08, 2018

Winter DANCE/works 2017 Photos

(Story)

Dec 22, 2017

Holiday Sweaters 2017

(Story)

Dec 19, 2017

Teacher Spotlight: Ms. Piotrowski

(Media)

Nov 30, 2017

Fall Sports Review

(Story)

Nov 29, 2017

Mr. Benson Proposes Revised Homework Policy

(Media)

Nov 29, 2017

Acknowledging the Merits of the Level-Up Initiative

(Media)

Nov 29, 2017

CRLS Girls Soccer Perseveres through Injuries

(Media)

Nov 29, 2017

Cambridge Students Work as Youth Soccer Refs

(Media)

Oct 31, 2017

Halloween Costumes 2017

(Story)

Oct 30, 2017

Gerald's Game: The Perfect Horror Movie for Halloween Season

(Media)

Oct 30, 2017

Conversation about Protected Bike Lanes Continues

(Media)

Oct 30, 2017

Paper Use at CRLS

(Media)

Oct 30, 2017

On the Necessity of Dialogue Between Spain and Catalonia

(Media)

Oct 30, 2017

Dr. Shi, Chinese Program Receive Grant for "Confucius Classroom" at CRLS

(Story)

Sep 28, 2017

Orienteering Officially Added as a CRLS Sport This Fall

(Media)

Sep 27, 2017

Club Sports Offer Different Athletic Opportunities

(Story)