Prom 2019: A Night to Remember
Dresses, Tuxes, Corsages, Boutonnières, Oh My
Every year, just as the flowers begin to bloom, an annual event occupies the minds of upperclassmen: the Promenade. A high school rite of passage, Junior and Senior Prom at CRLS is a big deal, just as the movies make it out to be.
On May 4th, juniors filed into a downtown Boston hotel to dance their pre-senior-year hearts out. For $50 a ticket, 11th graders expected a dance, and a dance they received. As junior Uma Edulbehram remarked, "You got to see people who you do not normally see outside of school setting and let loose and have fun and dance with them."
Junior Joey Atallah also displayed his eagerness in attending the promenade. He said Junior Prom was at "a very nice venue suitable to hold a lot of people made for a fun time."
387 seniors filed into a different downtown Boston hotel for their prom two weeks later, on May 18th. But this time, the hotel was on the water. The Long Wharf Marriott set the perfect backdrop for the abundance of Instagram pictures that were taken.
"
Both definitely exceeded my expectations, and I was especially pleasantly surprised by the enthusiasm." "
— Uma Edulbehram '20
As Maeve Reilly, Senior Class President and two-time prom-goer, remarked, "Prom was so much fun; I loved seeing everyone dressed up. It was a great end to the year." Edulbehram said the same of Junior Prom: "I think overall prom is a really good way to bond with your peers. I feel like I saw my grade come together more than usual."
Prom, despite its monumental status, can cause worry in those who spend three or four years waiting for the day. What if it falls short of its great expectations? Edulbehram, however, said this years' proms—both of which she attended—dissuaded those fears for her: "Both definitely exceeded my expectations and I was especially pleasantly surprised by the enthusiasm on the dance floor."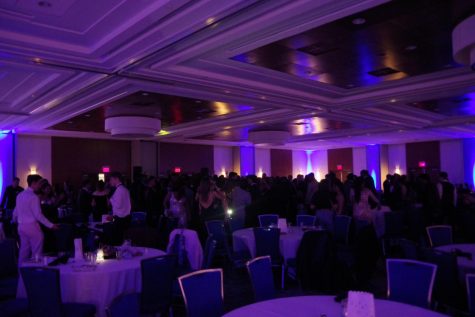 Senior Finn Rose, also an attendee of both junior (last year) and senior prom, reflected on his night, stating, "I liked seeing people you would've never expected to, out on the dance floor killing it."
Just who had that much enthusiasm? It could have been senior Lucy Ducharme, who said the highlight for her, after the dresses and the pre-proms and the dates and the food, was that the DJ "played 'Mo Bamba'" by Sheck Wes.
This piece also appears in our May 2019 print edition.