Immigration in Cambridge
Cambridge as a Sanctuary City
There are 24,799 immigrants in Cambridge, who together make up 27.4% of the city's population. One of the main reasons immigrants make up such a large share of Cambridge's population is it's status as a sanctuary city. Nancy Schlacter, Executive Director of the Cambridge Commission on Immigrant Rights and Citizenship (CIRC) in Cambridge, describes a sanctuary city as "a whole array of support services" for a community's immigrant population. Being a sanctuary city also means that local businesses won't discriminate against a person because of their documentation status. "If you're living [in Cambridge], you have access to all of the resources we have to offer," says Schlacter.
As President Trump has used Immigration and Customs Enforcement (ICE) to crack down on immigration in the past two years, one of the most valued aspects of sanctuary cities has been their refusal to cooperate with ICE's efforts to detain and deport undocumented immigrants. If the Cambridge Police Department detains an undocumented immigrant suspected of a crime, law enforcement will not alert ICE or the federal government that they have that person in custody. "The federal government wants local police departments to hold undocumented offenders at the police departments and let ICE decide if they want to lock them up or not," Schlacter explained. "Cambridge won't do that." Cambridge's sanctuary city status attracts many immigrant students. Tamara Campillo Lazcurain '19 and her family chose Cambridge, as opposed to other towns in the Boston area, because they felt it would be the most "safe, diverse, and welcoming."
Immigrant Students at CRLS
Jordan Roldan, a freshman guidance counselor, stressed the importance of encouraging immigrant students to get involved in the school community and the activities and resources available to them. "Part of our job is to help them find things to get involved with and find things that help them understand how the school system works," Mr. Roldan said. "We, as guidance counselors, partner with Ms. Duarte's [Vera Duarte, director of the International Student and Families Center] department to make sure that the student has a transition process that's somewhat similar to a freshman's but more in depth." Often, language can be a barrier in these introductions, and liaisons are often enlisted to translate information into many languages including Haitian Creole, Spanish, and Chinese.
Campillo Lazcurain immigrated from Veracruz, Mexico during the summer before her freshman year. She spent two weeks as a "watcher," looking in on the classes she was going to take the next year. "They [connected me] with another [student] who was also from Mexico [who] was a year older," she said. This guidance, according to Campillo Lazcuarain, was "very helpful." She took six weeks of English classes over the summer before going into the second level of the school's English Language Learners (ELL) program in her freshman year. This type of transition is common among other immigrant students at CRLS.
ELL classes are broken up into four levels of proficiency, teaching students other subjects like History and Algebra in a way that is accessible to them at their understanding of the language. Charlotte Dumont, the ELL 4 Teacher, explains, "The idea is once you're done with ELL, you can just move right into mainstream English and you're good to go."
The ELL program serves a greater purpose than teaching English to students. It also serves as a place where students can build connections with others who are in similar positions themselves. Campillo Lazcurain described the program as a "very close-knit community." Naiad Leon '19, an immigrant student from Costa Rica, said the ELL program connected her with "many other Latinxs." Leon also felt, however, that the program limited her ability to "socialize with American students." Campillo Lazcurain similarly said she wanted there to be "more interaction between immigrant students and American students" at CRLS.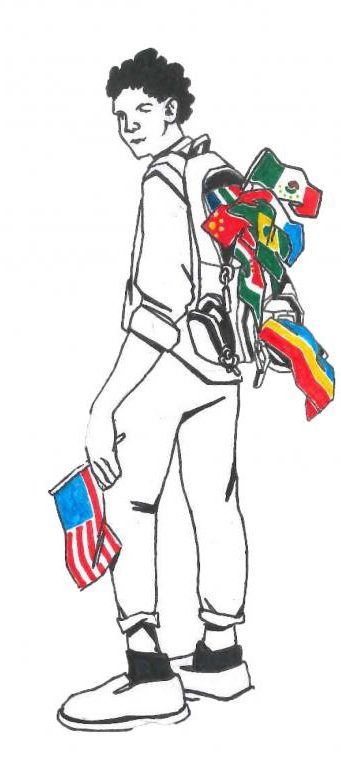 Lara Garay
Resources for Immigrants
Within the Human Rights Commission of the City of Cambridge is the Commission of Immigrant Rights and Citizenship, the CIRC. The Commission works to listen to the requests and needs of Cambridge's immigrant community and gives resources to the population based on their needs. On their website, they describe their responsibilities as providing outreach and resources, coordinating events such as "Know Your Rights," supplying red cards describing immigrants' rights, and providing citizenship classes, legal services, and counseling. Executive Director Nancy Schlacter said that the organization gets ideas from a "combination of focus groups and survey questions out to immigrants in the community." For Know Your Rights, the department works with volunteers from the American Immigration Lawyers Association (AILA) and the Political Asylum and Immigrant Representation Project (PAIR). Schlacter explained, "They would come and volunteer and talk through one's constitutional rights, what was happening under the current administration, and how it was changing people's situations."
To Schlacter, "one of the key things [the CIRC provides is] immigration legal screening clinic[s]." These monthly clinics began on December 17th, 2017 and are open to any and all immigrants residing in Massachusetts. In clinics, attorneys are available to meet with immigrants and provide legal advice and aid. Although Schlacter's department does not directly provide the legal advice, it works with the Community Legal Services and Counseling Center (CLSACC). "We have our monthly legal clinic at CLSACC and we arrange for the volunteer immigration attorneys to provide the legal services. So it's free, monthly, for a couple of hours, and it's open to all Massachusetts immigrant residents," Schlacter explained.
The College Search as an Immigrant
On top of the typical challenges of applying to college and starting your career post-high school, recent Cambridge immigrants often face a greater number of obstacles regarding their futures. However, Cambridge's sanctuary city status does alleviate some of these hurdles. Although you don't need documentation to directly apply for most colleges, many do require a green card or other forms of documentation to apply for financial aid.
Due to today's political climate surrounding immigration in the government's current administration, according to Mr. Roldan, this type of regulation has become more strictly enforced. However, because Cambridge is a sanctuary city, many Cambridge schools are able to overlook the practice of asking for documentation to provide financial aid. Mr. Roldan emphasized that regardless of immigration status, guidance counselors are always there to help with the college process. "Once they are [at CRLS], they have access to anything the school has to offer," he said.
Impact of Trump Administration
Under Trump's administration, stricter laws and regulations have been discussed, leading to a heightened fear throughout Cambridge's immigrant population. Mr. Roldan explained that laws regarding undocumented immigrants have gotten "tougher." He also observed that it was easier to talk with students about their immigration status before the 2016 election. Today, he feels like he has to be "more conscious of [his] students who may be undocumented or may be sensitive to that kind of question."
Even at Know Your Rights, Schlacter said she noticed that the greatest numbers of people came right after the election and at the start of Trump's presidency due to fear of his threats against immigrants. "We had lots of calls for [the training] right after the inauguration—in January, February, and March of 2017—and then it started trailing off," she said. Schlacter explained that the reason for this trailing off was most likely a drop in fear due to the majority of Trump's policies being blocked in court.
Although increased fear has made it an even more stressful time to be an immigrant in many places, Schlacter's department works hard to eliminate anxiety, and CRLS makes sure students receive any and all resources without having to disclose their immigration status.
"I remember when I arrived here," Campillo Lazcurain said. "[The school] told me, 'We won't force you to tell us your immigration status, but here is some help for you.'" She continued, "To this day, they help me with free lunch because of my family income and they don't force me or anyone to tell what their immigration status is."
This piece also appears in our December 2018 print edition.