"Heathers: The Musical" Showcases Student Creativity and Individuality
Hang on for a minute...we're trying to find some more stories you might like.
This spring, CRLS students put on their very own production of Heathers: The Musical. Unlike past fall musicals, that have been produced by the CRLS drama department, Heathers: The Musical was independently produced by seniors Eva Beram, Micaela Leon Perdomo, and Harvard ART member Kathryn Rosenberg.

Instead of being performed at CRLS, the musical took place at the Cambridge elementary school Graham and Parks and ran from May 31st through June 2nd. Rosenberg, who is familiar with past CRLS productions, initially came up with the idea. She approached Perdomo early in the school year with the idea of producing a spring musical, an idea that was supported by many CRLS students. With the collaboration of passionate CRLS students and other Cambridge community members, the development of Heathers: The Musical began.

The off-Broadway musical, based on the 1998 teen drama Heathers, follows the story of Veronica Sawyer, a high school senior. Sawyer attends Westerburg High, a stereotypical high school filled with classic cliques including the popular kids, the jocks, and the outsiders. She longs to be part of the most popular clique at school: the Heathers. Then enters JD, a mysterious new guy, who rattles up the social hierarchy of the school.

"

Honestly, producing and acting in "Heathers" was one of the most fulfilling experiences of my senior year."

— Micaela Leon Perdomo

,

The musical brought up the sensitive subjects of suicide, bullying, emotional abuse, guns, and violence. The challenges that come with portraying these dark topics didn't go unnoticed. Audience member Lucas Tedesco '20 noted: "I've never seen the movie, so I didn't really know what to think coming in, but I was surprised how the students did such a good job of putting out a production that was centered around such heavy topics."

Because the musical was independently produced, many CRLS students, including Perdomo, got new opportunities to put their creative skills and talents to use in a more independent way. When asked about her experience co-producing the musical, Perdomo said, "Honestly, producing and acting in Heathers was one of the most fulfilling experiences of my senior year. I was able to make countless new connections and showcase the hidden talents of our Rindge performers, technicians, and designers." Junior Kamali Lopez Kuno, who played one of the three Heathers, also appreciated the creative freedom that came with this process, stating, "A lot of the decisions, including the acting, [were things] we had a say in, and so it was a lot more personalized and you could see the individuality in the way each actor played their character."

While some students were skeptical about a student-produced musical, senior Jasper Duval, who played the male lead JD, was very proud of the outcome, stating, "The all-student cast and producing team made something truly beautiful." Perdomo added, "I am beyond grateful for the positive feedback and enthusiasm this project received; I was told that we've moved and inspired many, and that was exactly our goal!"

Not only do school musicals like Heathers provide a creative outlet for students, but they are also a form of self-expression. Duval reflected on his experience: "Performing arts is a way for us to express ourselves and spread our message of youth, strength, and creation to a wider audience."
About the Writer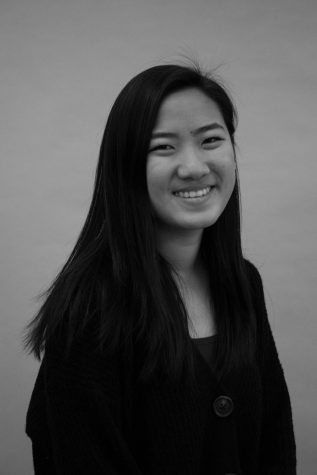 Yiyi Chen, News Editor
What elementary school did you go to?

Haggerty

What other activities are you involved in at CRLS and/or in the community?

Soccer, Sisters on the...