Yoga Club, New Yoga Class Helps Students De-Stress
Each year, new classes arrive at CRLS. This year, for the first time ever, a yoga and stress management class is being offered for students to take for Physical Education credit. This class claims to help students in grades ten to twelve create self-awareness and a positive self image, practice mindfulness, and to de-stress. In addition to having three blocks offered during the school day, the class can also be taken before school at 7 AM two days a week.
Ms. Manning, who is the only teacher that teaches the course, became a certified yoga instructor this summer. The class is growing in popularity—already 55 students are enrolled. Ms. Manning is excited, saying, "More and more students seem to be interested in taking the course." She hopes that the yoga and stress management class "creates an environment for students to have a safe place to self-study and practice discipline."
Senior Sonam Choedon, who takes the class before school, believes Ms. Manning has already achieved her goal. Choedon reflects on her experience in the class so far, saying, "Ms. Manning creates a very warm and welcoming atmosphere while instructing us through different yoga positions and how they benefit us." Choedon believes that yoga helps her to de-stress and feel more prepared, explaining that she feels "ready for the day" after doing the morning class. Ms. Manning continues, saying she "saw the instant impact [the class] had on the students … they were asking for more."
"
My favorite thing about teaching yoga is seeing students leave with a smile."
— Ms. Divelbliss
Rindge also has a yoga club, advised by dance teacher Ms. Divelbliss, that meets on most Wednesday mornings from 7:15 to 7:55. The yoga club is affiliated with the Modern Dance Company and therefore is not listed separately with the other official school clubs. However, students that are not part of MDC are still encouraged to join the club. "It is a community outreach of CRLS MDC," Ms. Divelbliss explains. The club is free and open to CRLS students of all ages. Unlike the class, however, the club is not new to Rindge and has been meeting since 2013. After completing training to become a teacher, Ms. Divelbliss was inspired to start the club as a way "to share what my teachers had given me." She added, "My favorite thing about teaching yoga is seeing students leave with a smile—with a bit less stress, and more positive energy."
However, the early time that the club meets is one of the biggest obstacles for commitment. "Waking up early can be hard, but it makes my day much more manageable and I feel super refreshed and productive," senior Sydney White commented. White thinks that doing yoga in the morning makes Wednesdays "so much more doable." Senior Sophie Pelletier, who leads the club with White, agrees that yoga reduces stress. She said, "On Wednesday I'm much calmer and more refreshed going into first period."
Students experience great amounts of stress due to academic and social pressures, which is why many schools are now offering yoga and meditation classes. When ignored, stress can take an immense toll on the body and mind, causing anxiety, depression, fatigue, and a variety of other health concerns, according to Mayo Clinic.
According to the New York Times, people who practiced meditation for only three days reported that they "felt refreshed" and felt better compared to when they were "experiencing considerable stress." Brain scans for those who practiced formal mindfulness meditation showed significant changes such as "more activity … among the portions of their brains that process stress-related reactions."
Ms. Divelbliss concluded, saying that yoga and meditation "can help a person shift out of a bad mood, and provide a place to recuperate."
This piece also appears in our September print edition.
About the Writer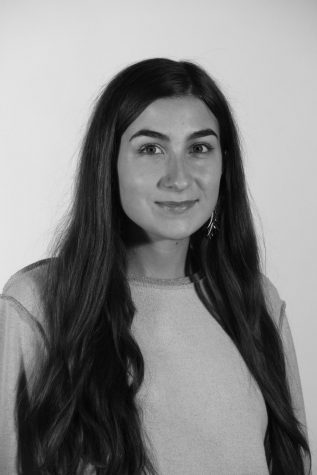 Honor O'Shaughnessy, Layout Designer
What elementary school did you go to?

Brackett (Arlington, MA)

What other activities are you involved in at CRLS and/or in the community?

Environmental...