Indoor Track: Up & Running
Boys and Girls Teams Continue Last Year's Success
The indoor track teams had a successful season last year with both the boys and girls teams sending athletes to States, and they hope to continue that success into this year.
Last year's team had eight Boston Globe All-Scholastics representing the boys team and three for the girls team. Several of these All-Scholastics, as well as other successful athletes from last year, returned to the team this year.
The spring outdoor track season also did well last year. Captain Caroline Williams '19 recalled, "In outdoor track, many made it to States, some to All-States, and a few to Nationals."
"
The final few meets coincide with the peak of everyone's fitness, so we should expect plenty of personal records."
— Antonio Escallón '19
The core of the team, which has had success in past years, is looking forward to another successful season. Captain Antonio Escallón '19 explained, "We have some great runners, jumpers, and throwers. The most noticeable is our shot putter, Khadija Romain ['19], who has been the best in the league for two years, and our best long jumper, Sophie Wright ['19], who is an inch away from qualifying for Nationals." Escallón continued, saying, "The 4×200 Boys Relay is less than a second away from getting the school record. We have plenty of studs."
In addition to these individual accomplishments, Escallón said, "The meets have gone alright for the boys, and very well for the girls." So far, the boys team has a 2-2 record this season, after wins against Newton South and Westford Academy, as well as losses to Lincoln-Sudbury and Acton-Boxborough.
Williams also mentioned the success of the girls team: "As a team, the girls won their meets against Acton-Boxborough, Newton South, and Westford, which are hard teams to beat, so this was a great way to start the season. We did not win against Lincoln-Sudbury but we put in a large amount of effort."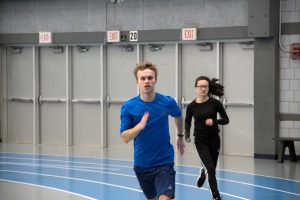 Head Coach Scott Cody also spoke about their season so far, explaining, "On the girls side, for the first time since we joined the [Dual County League], we beat Acton-Boxborough and Newton South. It came down to the meet versus Lincoln-Sudbury to see who'd win the title, and they squeaked it out on us by just a few points. I feel like if we raced them again, we might beat them."
He continued, explaining that the girls finished 3rd at the recent State Relays, which is their best finish in a long while. The boys, according to Coach Cody, finished 8th and 9th.
Williams was confident that the team would continue their success when she went on to discuss certain girls events and runners with a chance of going to States. "I am not sure [about] everyone, but on the long distance team, Sophia Price ['21] will go for the 2-Mile or 1-Mile, and the same goes for Phoebe Smith ['20]. The 4x400m, 4x200m and 4x800m Relays also will most likely make it to States."
Escallón also has high hopes that the team will have a successful end to the season. "The final few meets coincide with the peak of everyone's fitness, so we should expect plenty of personal records," he explained. "The state meet will be very exciting since we have plenty of runners and relays who have or will qualify."
This piece also appears in our January 2019 print edition.