A Family Tradition: Sweet Potato Pie
Every Thanksgiving, my dad makes a lot of food. The entire Thanksgiving dinner is my favorite meal of the year, yet there is one dish that stands out to me: his sweet potato pie. I know that might sound basic, but his is so good and has a bit of a sweet twist. I also love helping him make it every year. This pie is soft and sweet, but the perfect side course for a typical Thanksgiving meal. Enjoy!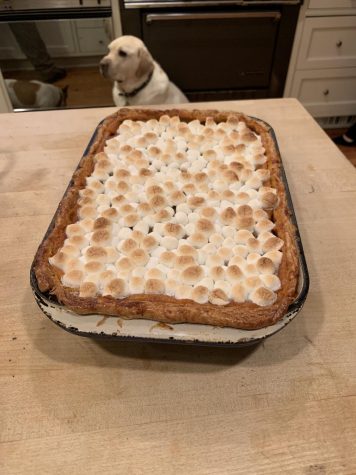 Ingredients:
3 medium sweet potatoes, peeled
5 tbsp butter, at room temperature
¾ cup sugar
1 ¼ tsp freshly ground nutmeg
1 large egg
½ tsp vanilla extract
2 ¼ tsp baking powder
9-inch unbaked pie shell
15-20 regular-sized marshmallows  
1 cup evaporated milk
Directions:
Place sweet potatoes in a large saucepan and add water to cover. Bring to a boil, then reduce heat and simmer until tender, for about 45 minutes. Drain well.
Preheat oven to 350º F. Add butter to hot potatoes and mash until smooth. Add sugar, nutmeg, egg, and vanilla, mixing well.
Combine baking powder with evaporated milk and stir to blend. Add to mashed sweet potatoes. Whisk the mixture until it is velvety.
Then, mound it into the pie shell and spread evenly to edges. To top it off, cover all of the smoothed mixture with marshmallows.
Bake the pie until it is set and lightly browned on top, for about 55 minutes. Cool before serving.
This piece also appears in our November 2018 print edition.