The Perfect Ginger Cookies
Hang on for a minute...we're trying to find some more stories you might like.
I recently made these cookies with my mom one afternoon and fell in love! They are the perfect blend of sweetness, ginger, and spices that remind me of the holidays in each bite. I recommend having them with milk or Earl Grey tea (feel free to dip!).
I adapted this recipe from the blog Call Me Cupcake. It should make about 30-35 small cookies. The recipe was originally in gram measurements, but I tested it with the cup conversions and it tastes just as delicious. Enjoy!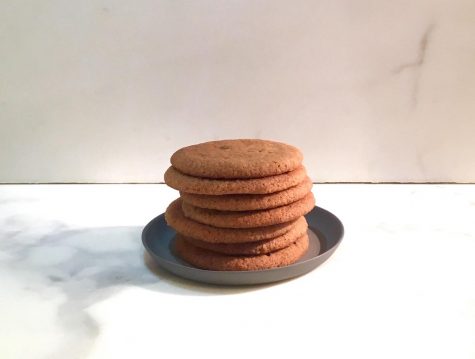 Ingredients:
2 cups all-purpose flour
1 tsp baking soda
2 pinches of fine salt
1 ¾ sticks butter (let soften to room temperature)
½ cup white granulated sugar
½ cup dark brown sugar
4 tbsp maple syrup*
1 ½ tsp ground ginger
2 tbsp chopped crystallized ginger
1 ½ tsp ground cardamom
1 ½ tsp ground cinnamon
1 tsp ground cloves
*If you have Lyle's golden syrup, corn syrup, or honey, these work too—experiment with which you like best! I made these a few times with different variations, and I like ½ Lyle's and ½ maple the best.
Directions:
Preheat oven to 350°F. Whisk together flour, baking soda, and salt. Set aside.
With a stand or handheld electric mixer, beat the butter, sugars, syrup, gingers, cardamom, cinnamon, and cloves on medium speed until the mixture is lighter in color and creamy (should take around 2 minutes). Scrape down the bowl and add the flour mixture in 3 parts until combined.
Roll dough into 1 to 1 ½-inch diameter balls. Place on the parchment, leaving about 2 inches between each cookie. It depends on the size of the pan, but I baked my cookies in 2 batches.
Bake for 12 minutes. You should see crinkles on the surface of the cookies. Allow the cookies to cool for 5 minutes before transferring to a cooling rack to cool completely.
Share these beauties with your family and friends (or hog them for yourself—that's also a valid choice).
This piece also appears in our November 2018 print edition.