In a Liberal Massachusetts, a Republican Prospers
November 2nd, 2018 marks this year's Massachusetts gubernatorial election, where the governor, as well as the lieutenant governor, will be elected. Incumbent Governor Charlie Baker (Rep.) is running against Jay Gonzalez (Dem.), and Lieutenant Governor Karyn Polito (Rep.) is running against Quentin Palfrey (Dem.). These Democratic opposing candidates have already been through a primary election, which happened on September 4th, 2018.
Baker was elected in 2014 by slim margins, over then-Attorney General Martha Coakley, and has not faced much strong opposition in elections since then. This year many candidates, including Congressman Mike Capuano and Attorney General Maura Healey, were pushed to run against Baker, but all of them declined. This left Gonzalez—the Secretary of Administration and Finance for former governor Deval Patrick—and author/activist Bob Massie to battle for the Democratic Primary. Gonzalez won this election by a significant margin, with around 64% of the vote. In the Republican Primary, Baker also won without much struggle, winning by about 175,000 votes over Scott Lively.
Around the school, the gubernatorial race is barely mentioned, especially with Democratic candidate Gonzalez not having strong name recognition. As Senior Abdullah Niase puts it, "I hear about the elections, but I don't really know anything about them." Talking to students around CRLS, it seemed many people shared the sentiment that this election was not something they found very important. Junior Cameron Moody commented, "I don't know who's running, but I think it's important to elect the right person so we don't continue this crazy a** cycle of Republicans." This lack of information on the election is probably because, after no big-name Democrat decided to run, people pretty much accepted another two years under current Governor Baker.
Senior Charlotte Keats noted, "I don't know a lot about the current race because the state is pretty liberal; every race is important, but swing states have more of my focus." Baker is the nation's most popular governor, and because of this, Democratic constituents believe non-established Democrats have almost no chance running against him. These fears, though pessimistic, were proven valid by a WBUR poll from May of 2018, asking, "If the election for Governor of Massachusetts were held today, who would you vote for?" Gonzalez came in with 19% of the poll voting to elect him, Governor Baker held 59% of the poll's vote, 3% voted for another candidate, 1% declined to answer, and 18% were undecided.
Overall, it seems the disinterest in the gubernatorial election is not due to one factor, but a series of different ones. A combination of lack of information, apathy, and contentedness with current established political figures has led to an unenthused political climate around CRLS. These factors, though currently in play, are not steadfast; through new political efforts around the school, like the Black Student Union or History Club, this tendency towards complacency when it comes to state politics may soon change.
About the Writer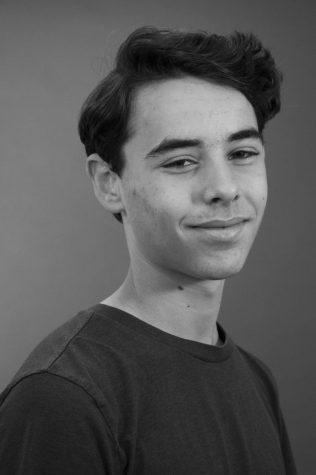 Nathan Kolodney, Metro Editor
What elementary school did you go to?

Cambridgeport

What other activities are you involved in at CRLS and/or in the community?

History Club, Literacy...