CRLS Students Weigh in on Time's Up, #MeToo Movement
In the midst of the Cold War, nearing the turn of the decade into the '50s, the House Un-American Activities Committee launched an investigation on members of Hollywood suspected to be part of the Communist Party. A platform as far-reaching and powerful as film stirred fear in the stomachs of self-proclaimed patriots who wanted to deny American citizens their First Amendment right.
Seventy years later, on New Year's Day of 2018, over 300 women in the film and television industry took advantage of the influence Hollywood has to create the Time's Up movement, standing up against sexual harassment in the industry which has been brought to light this year in particular following accusations against producer Harvey Weinstein. They took out a full-page advertisement in the New York Times for a letter, which began with the words "Dear Sisters" splashed in large print across the middle of the page.
Spearheaders of the initiative Reese Witherspoon, Shonda Rhimes, Oprah Winfrey, and others also set up a legal defense fund which is administered by the National Women's Law Center and works to represent survivors of sexual harassment and assault, especially those in low-wage jobs. So far, the fund has raised over $19 million.
At CRLS, Sisters on the Runway (SOTR) has fundraised for domestic abuse awareness and a local women's shelter for years, while Club 1 has been home to discussions about feminism at CRLS and taken actions such as 2016's walkout protesting sexual harassment and assault at CRLS. Regarding the Time's Up movement, SOTR president Kiva McElhiney '18 commented, "I definitely think it is a very important and relevant movement, and I think it is really great that celebrities are using their influence over the media and the public eye to cause this. I think otherwise it wouldn't be as big of a deal."
"
It is a very important and relevant movement"
— Kiva McElhiney '18
At the Golden Globes on January 7th this year, Time's Up had the spotlight on the red carpet. Many showed up wearing their best black linen to show solidarity with the movement and sexual assault victims across the country. Mecha Sapuppo '18, a member of the CRLS Improv Club and actress in the school's upcoming festival play, expressed, "What I find especially important is that those spearheading the movement are doing so with the awareness that their professions in the entertainment industry give them access to many resources and platforms to express what many, many women experience in the workplace, [but] not all women have access to [speak up about]."
As more men in Hollywood are called out for their actions pertaining to sexual harassment and assault against women in the workplace, growing numbers of the public can boycott the products of these artist. However, in an industry where there are no eyes on the offender, and nobody would ever find out—or care—it is difficult for victims to speak up about what has happened to them, let alone attain justice. Hannah Phipps '18, who is working on a graduation project second semester about the #MeToo movement, commented that Time's Up is "a great start," but added, "I haven't heard anything since New Year's and the Golden Globes—I haven't heard anything on social media. I like to think they're working on something and it's not just something you post and forget about."
Hollywood feels—and is— very far away from CRLS. However, these issues are closer to home than some people might realize. For example, prominent CRLS alumni in the industry have come under scrutiny on this subject.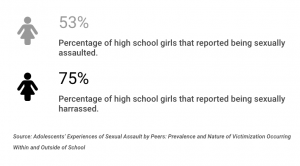 Vera Targoff

Also, one in five high school girls have been sexually assaulted at school. Overall, 53% of high school girls have been sexually assaulted by a peer, according to a 2008 study by three professors of psychology, women, and gender at Eastern Michigan University and University of Michigan, Ann Arbor. After high school, it doesn't look much better for young women. On college campuses, approximately 19% of women are sexually assaulted. Only 12% of survivors report their assault to the police. Clubs like SOTR and Club 1 have committed to raising awareness of these facts.
McElhiney added that SOTR and Club 1 are having a joint meeting to discuss the impact of Time's Up and the #MeToo movement and its impact on CRLS. "We've never combined before," she said of SOTR, which is often focused on fundraising, and Club 1, which focuses more on discussion.
"Hopefully this [movement] will drive discussion, and maybe members will merge and get to know clubs better as well," she continued. "I'm excited to work with [Club 1] and hear what they have to say."
Grace Ramsdell also contributed to this piece. This piece also appears in our January print edition.
About the Contributors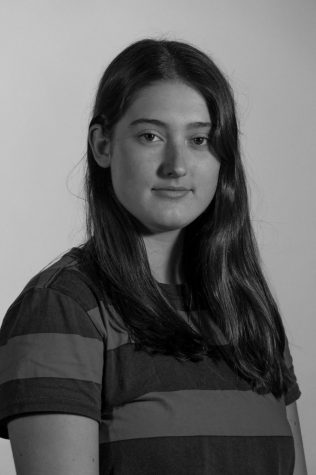 Maeve Reilly, Contributing Writer
What elementary school did you go to?

Prospect Hill Academy and Baldwin

What other activities are you involved in at CRLS and/or in the community?

Senior...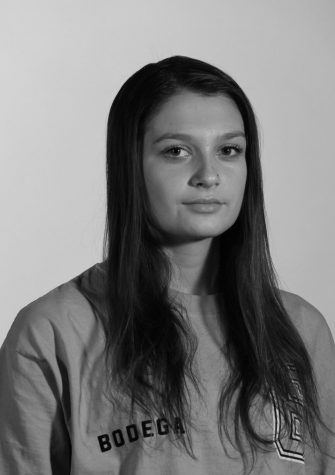 Vera Targoff, Managing Editor
What elementary school did you go to?

Baldwin

What other activities are you involved in at CRLS and/or in the community?

A Capella!! Sailing!!!...