Weinstein Allegations: Why Teaching Consent Matters
Hang on for a minute...we're trying to find some more stories you might like.
Every year, crimes of sexual assault are broadcasted throughout the world, reaching millions of people. Last year, Brock Turner's case opened up discussion around sexual assault; however, resentment faded after Turner was released from jail and the media coverage ended. The media and people throughout the world must continue to have conversations about consent in order to prevent sexual harassment.
Recently headlining the news is the story of famous Hollywood producer Harvey Weinstein who has been accused of sexual assault by over 40 women—and the number of accusers is still increasing. According to CNN, these instances of sexual assault occurred from 1980 to 2015. Weinstein used his power as a producer to take advantage of women ranging from assistants to some of the most famous female celebrities. Weinstein's spokeswoman told CNN that "any allegations of non-consensual sex are unequivocally denied by Mr. Weinstein." As of yet, Weinstein has not been punished in any way; instead he underwent psychiatric counseling in Arizona and is currently attending outpatient therapy.
There is no solid evidence against Weinstein, and many argue that the allegations are irrelevant because some of the alleged incidents occurred 35 years ago. However, there is a recording taken by a model that he groped, as well as numerous stories from many women that all have recurring patterns. Even though some of the incidents happened long ago, victims' lives are still affected today.
It is important to remember that some accusations did occur as recently as 2015. Weinstein deserves to be punished for his actions,  which have severely impacted the lives of these women. It is unjust that the experiences of over 40 women who reported being sexually assaulted by Weinstein are being ignored and that Weinstein is free from punishment.
"
Actions need to be taken by everyone, not just people who have been assaulted."
Weinstein's actions have been publicized all over the world and are provoking important discussions surrounding sexual assault. The hashtag "#MeToo" has spread throughout social media by millions who have experienced sexual harassment or assault. "#MeToo" allows people to share their stories instead of suppressing them. The staggering amount of people who have tweeted or captioned posts with these two simple words shows just how prevalent sexual assault is today.
To prevent sexual harassment, actions need to be taken by everyone, not just those who have been assaulted. Discussions regarding consent and sexual assault must continue to take place, and pressure must be kept on the media to uncover stories like Weinstein's. If people stop discussing the allegations against Weinstein now, nothing will change. Already these accusations are receiving less and less coverage every day.
Another way to decrease sexual assault in the world is for parents to have discussions about consent with their children, especially their sons.
Although men can be sexually assaulted, the issue seems much more prevalent for women. Parents are living in constant fear for their daughters' safety when they should be just as worried about their sons sexually assaulting other women. Women are inundated with advice about consent and how not to get sexually harassed.
This rhetoric must be inversely applied to men. Activist Nick Jack Pappas summarized this concept perfectly: "Men, don't say you have a mother, a sister, a daughter. … Say you have a father, a brother, a son who can do better. We all can."
This piece also appears in our November print edition.
About the Writer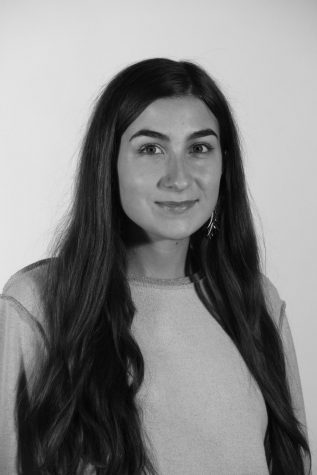 Honor O'Shaughnessy, Layout Designer
What elementary school did you go to?

Brackett (Arlington, MA)

What other activities are you involved in at CRLS and/or in the community?

Environmental...