Peppermint Bark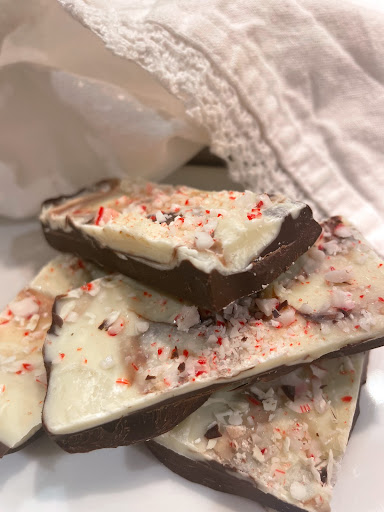 Mint chocolate lovers will revere this peppermint bark as a more sophisticated take on the flavor combination. With two types of chocolate and candy canes for the holidays, this quick and easy chocolate recipe pairs wonderfully with some hot chocolate on a snowy day.
Ingredients:
16 ounces dark chocolate (chips or chopped bar)
12 ounces white chocolate (chips or chopped bar)
½ teaspoon peppermint extract
¾ cup crushed candy canes
Instructions:
1. Melt the dark chocolate in one of two ways:
2. Microwave in a bowl for 30-second intervals until all chocolate is melted, and stir between each interval
3. Set up a double boiler by placing a heat-safe bowl over a pot of boiling water so that the water does not reach the bottom of the bowl, stir as the chocolate melts
4. Set parchment paper over a 9 x 13 inch baking pan and pour the dark chocolate over it
5. Let set in the fridge for 20-30 minutes
6. Melt the white chocolate and then add the peppermint extract; stir to combine
7. Spread the white chocolate over the now-set dark chocolate, and add the candy canes over the sheet
8. Let harden in the fridge for 20-30 minutes or until the chocolate has set
9. Remove from the fridge, cut into smaller pieces, and enjoy!
This recipe also appears in our December 2022 print edition.