Peppermint Meringue Cookies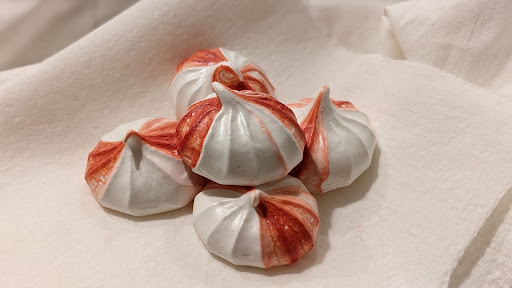 These peppermint meringues are a delicious and festive treat that are sure to impress your relatives during the holidays. Little do they know, these are extremely easy to make as well as perfectly crisp and light.
Ingredients:
4 egg whites
¼ tsp lemon juice
½ tsp salt
1 cup sugar
1 tsp vanilla extract
1 tbsp peppermint extract
Red gel food coloring (optional)
Instructions:
1. Preheat the oven to 200°F.
2. Separate the egg whites and place in a large mixing bowl.
3. Add lemon juice and salt to the egg whites. Using either an electric hand mixer or a stand mixer, beat on medium speed for 45 seconds to a minute. 
4. Once the egg whites are frothy and lighter in color, sprinkle in sugar one teaspoon at a time, ensuring each addition is fully incorporated into the egg whites before adding more. 
5. Continue mixing after all the sugar has been added and until the meringue has reached a point of stiff peaks, with a glossy appearance. Stop mixing once stiff peaks are achieved, to avoid overmixing. 
6. Turn off the mixer and fold in vanilla extract and peppermint extract using a spatula.
7. Prepare a piping bag with an icing tip of choice and line the insides of the bag with vertical lines of red food dye using a toothpick. Use a spatula to carefully transfer the meringue mixture into the bag.
8. Pipe a small dot in each corner of a baking pan to act as a glue and line with parchment paper. Pipe the meringues onto the parchment paper, leaving about ½ inch of space between each cookie.
9. Bake the meringues for 1 hour, then turn off the oven and let the meringues sit for 2 hours before taking them out of the oven. Serve immediately, or store in an airtight container. 
This recipe also appears in our November 2022 print edition.