Who is Senator Josh Hawley?
Josh Hawley, a Republican senator from Missouri, has made the news in recent weeks—at first because of his stance on stimulus checks in December of 2020, and soon after because of his objection to the Electoral College results being certified. Since the insurrection at the Capitol by Trump supporters and his raised fist of solidarity only hours before the violence began, his recent book deal with the publisher Simon & Schuster had been canceled and multiple Senate Democrats have demanded his resignation. But who is Josh Hawley, where did he come from, and what might his future in politics hold? In only a few weeks, he has risen from relative obscurity and garnered national attention, and then (seemingly) immediately crashed and burned. But is his political career over, or is it just beginning?
Hawley is a graduate of both Stanford University and Yale Law School and clerked for Chief Justice John Roberts. Before he held any sort of political office, Hawley worked for Becket, a non-profit 'religious liberty' organization that has repeatedly worked with the Alliance Defending Freedom (ADF)—a group named an "anti-LGBT hate group" by the Southern Poverty Law Center. Hawley and his wife have also received $8,700 from the ADF since 2013, mostly for speeches they've made for the Blackstone Legal Fellowship, a program funded and organized by the ADF. According to an article from the Riverfront Times, "A spokeswoman for Hawley's campaign … said [Hawley] had no regrets about his affiliation with ADF." Hawley made his religious beliefs more clear in a speech for the American Renewal Project when he stated, "There is not one square inch of all creation over which Jesus Christ is not Lord."
After working for Becket, Hawley successfully ran for Attorney General of Missouri, where he focused largely on 'Big Tech' (a topic he's apparently going to continue concentrating on, based on the title of his next book, The Tyranny of Big Tech). This is one area of agreement between him and some Democratic senators—Elizabeth Warren, for example, has launched similar attacks against companies such as Facebook and Google. One of the things he was best known for was starting his Senate campaign only a year after being elected. Another focal point of Hawley's time as Attorney General was joining a lawsuit that opposed the Obama administration's Affordable Care Act (commonly referred to as Obamacare), insisting on its unconstitutionality. There was much backlash in response to this: Hawley's opponent in the Missouri Senate race, Sen. Claire McCaskill, weaponized the lawsuit against him and accused him of not protecting those with pre-existing conditions. Hawley released a controversial ad, which Paul Waldman, a blogger for the Washington Post, criticized, saying that Hawley "file[d] a lawsuit intended to take away protections for pre-existing conditions … and then [ran] a soft-focus ad about how committed [he is] to protecting those with pre-existing conditions." Despite the controversy, Hawley was still elected as senator in November of 2018.
Since he was sworn into the Senate in 2019, 86% of Sen. Hawley's votes in the 116th Congress (which ended January 3rd) were in line with President Trump's, according to a list by FiveThirtyEight. They agreed upon selling arms to Saudi Arabia, deciding not to provide "humanitarian aid for the U.S.-Mexico border," and confirming Amy Coney Barrett as Supreme Court Justice. They did disagree on whether to withdraw US troops from Afghanistan and Syria—Hawley was against doing so, whereas Trump was in favor. Hawley also managed to make President Trump's Supreme Court shortlist after the death of Justice Ruth Bader Ginsburg (Hawley tweeted, "I appreciate the President's confidence in listing me[,] … [b]ut … I have no interest in the high court"). However, it was his push for larger stimulus checks alongside senators such as Bernie Sanders that put him in national headlines in December 2020. He and Sanders, called "unlikely allies," agreed that "Congress should not leave Washington before passing a relief package." However, despite pushes from both of them, their proposal for checks of $1,200 for each individual and $500 per child was rejected. This proposal, a surprising populist departure from Republican Senatorial leadership, landed him in headlines outside Missouri for the first time.
"
… a photo emerged of him raising a clenched fist—some have called it a 'salute'—at Trump supporters who hours later stormed the Capitol."
The most recent, and arguably most consequential, reason that Sen. Hawley has been a regular on the front pages is his emergence as an unreserved leader in supporting Trump's efforts to overturn the election results, both prior to and following the insurrection at the Capitol. Fellow Congress members have demanded his resignation after a photo emerged of him raising a clenched fist—some have called it a 'salute'—at Trump supporters who hours later stormed the Capitol. Hawley has disregarded the calls for his resignation, saying in a statement, "I will never apologize for giving voice to the millions of Missourians and Americans who have concerns about the integrity of our elections. That's my job, and I will keep doing it."
As for where Hawley is headed? There's no way to be sure. But two World History teachers at CRLS gave the Register Forum their thoughts. Mr. Zachary Montgomery said he does "not think Hawley should resign or be forced out of the US Senate," elaborating, "it would be difficult to prove that his words directly encouraged or instigated the insurrection at the Capitol building." Mr. Benji Cohen stated, "Hawley is smart and … he has big-time political ambitions." Mr. Montgomery agreed, finishing with, "Hawley is here to stay … but the Josh Hawley we see in 2024 and the party he represents may look much different than they do now."
About the Contributors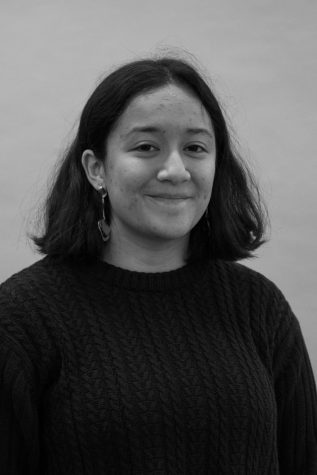 Lara Garay, Illustrations Editor
What elementary school did you go to?

Baldwin

What other activities are you involved in at CRLS and/or in the community?

Orchestra, Artists For...