CRLS Actors Perform August Wilson Monologues
Mentored by Alum Keith Mascoll, Students of Color Participate in National Competition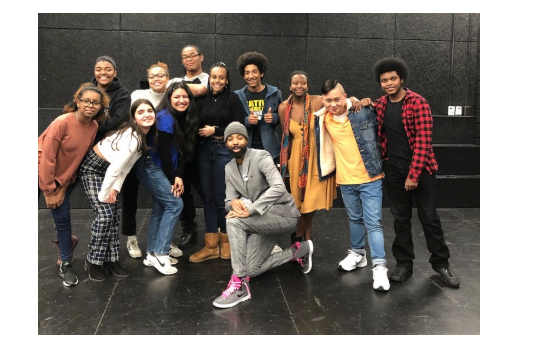 On Monday, January 6th, the August Wilson Monologue Competition was held in the black box theater at CRLS. Organized by the Huntington Theatre Company, this national competition provides an opportunity for students to perform monologues from plays written by August Wilson, an African American playwright and winner of the Pulitzer Prize for drama in 1987 and 1990. Fourteen CRLS students competed on behalf of the CRLS Visual and Performing Arts Department with the mentorship of CRLS alumnus and professional actor Keith Mascoll, who works with the Huntington Theatre Company. The students also received guidance from CRLS drama teachers Monica Murray and Brett Cramp.
The competition featured both poignant and comedic monologues that were produced and performed by people of color regarding the lifestyle and everyday struggles that African American people face. The competition's judges could choose only one performer to move onto the semi-finals. They chose Eden Mekonen '22, who portrayed a humorous and bold Molly Cunnigham from Come and Gone. In the semi-finals, she placed in the top twelve and will be attending the regional finals in late January. 
The students, who have been diligently practicing since early December, rehearsed for one hour per week, receiving moral support and one-on-one feedback from Mascoll. After hours of dedication, teamwork, and vulnerability, the students were ready to perform, proud of their growth not only in their monologue execution but also in their acting ability and confidence. 
Salam Tesfaye '22 commented on her journey as a new member of the drama department: "This [was] the first part of my CRLS theatrical experience. It's really special to me to see that I've grown so much as an actor over the last couple of weeks." Actress Razan Dareer '21 shared a similar experience, saying, "This experience, one, pushed me, and two, caused a lot of growth, and it made me feel like an actual actor instead of a musical theater person."
The competitors, all with various amounts of theatrical experience, formed a tight-knit and supportive community comprised of those who shared the same passion and dedication for diversity within the drama department. Jinho Lee '22 expressed his satisfaction with the welcoming environment, stating, "Typically, in theater productions I've been in before, there have been, like, three people of color, so it was really inspirational to see all of the people of color in the black box being talented."
 By the end of the experience, the students were all able to truly feel the power and thematic elements of August Wilson's monologues. This connection, combined with the mentorship of Mascoll and the encouragement of the community, made the students feel that they had accomplished something beautiful and meaningful. The students' growth has not only been recognized by the students themselves, but by the teachers as well. Mr. Cramp, who worked alongside with Mascoll, expressed his gratitude for this opportunity, adding, "Any time that we can bring an alum back to the school who wants to be here and work with students and can use their own expertise to draw out the expertise that's not yet fully alive in a student is a powerful opportunity."
This piece also appears in our January 2020 print edition.