Chocolate and Seed Cookies
These cookies come together quickly—browning butter seems like a complicated extra step, but it really is just leaving the butter to burn. These cookies improve the longer the dough sits in the fridge, so I often mix up a batch, bake half, and then I can have fresh cookies within 15 minutes a few days later.
I love the addition of sesame and poppy seeds in this recipe for their nuttiness and crunch, but this is also my favorite chocolate chip recipe without them, so feel free to leave them out if you'd like to feel less like a bird.
Ingredients:
1 ½ cups (200g) all-purpose flour
⅓ cup (50g) sesame seeds
¼ cup (35g) poppy seeds
1 ½ tsp kosher salt
¾ tsp baking soda
12 tablespoons (180g) butter
¾ cup (150g) dark brown sugar
Scant ½ cup (100g) granulated sugar
1 egg
2 egg yolks
2 teaspoons vanilla extract
6 oz chopped semisweet chocolate or chocolate chips
Directions:
Preheat oven to 375ºF. In a small bowl, whisk flour, seeds, salt, and baking soda. Set aside ½ a stick of butter (60g). In a skillet over medium heat, melt remaining butter and cook until it foams and browns, about 5 minutes.
Transfer to a medium bowl and stir in remaining butter. Set aside to cool slightly.
Whisk in both sugars, then add egg, egg yolks, and vanilla. Stir in dry ingredients and chocolate.
Use a spoon to drop 2-3 tablespoons of dough onto a parchment-lined baking sheet, shaping into spheres if necessary. Bake for 10-12 minutes, or until edges are crisp and golden brown and centers are just set.
*For more evenly shaped cookies with a richer flavor, refrigerate the dough for up to three days before baking.
This piece also appears in our May 2019 print edition.
About the Writer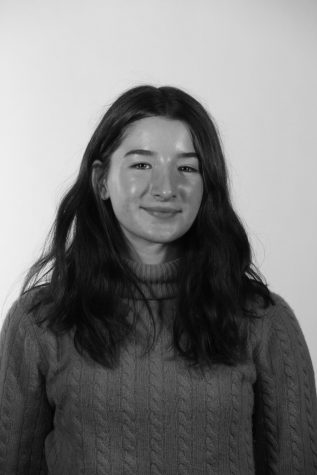 Miriam Alvarez-Rosenbloom, Layout Designer
What elementary school did you go to?

Amigos

What other activities are you involved in at CRLS and/or in the community?

Food Justice Club, Project...