Annual Jazz Night: New Venue, Same Dazzling Performances
On the night of Tuesday, April 30th, friends, family, and other members of the Cambridge community filled the back room of the restaurant La Fabrica in Central to enjoy performances by the World Jazz Ensemble, the Vocal Ensemble, and the CRLS Big Band.
Jazz Night hasn't always been at La Fabrica. In the past, Jazz Night has been held at the Ryles Jazz Club, which used to be located in Inman Square. The venue closed its doors for the last time in late June 2018 after the club owners announced their decision to sell the building earlier in February of that year.
Though La Fabrica may be the new home for Jazz Night, senior Jasper Duval believes "the environment was much less personal […] at Ryles; things felt super intimate [at La Fabrica]."
Lit a dim purple hue by the accent lighting, the room quickly filled up in the moments before the performance. By 7:00 PM, the official start of the performance, the venue was nearly full with little room for movement. "I arrived a bit late and it was absolutely packed. [There was] a good mix of adults and kids, I was surprised to see so many students there," said senior Josie Weissburg.
The night started off with a performance by the World Jazz Ensemble, followed by the Vocal Ensemble and finally the CRLS Big Band. Performances included both covers of popular music as well as music written or arranged by the students themselves. When asked about her favorite part of Jazz Night, Weissburg stated, "My favorite song was the one arranged by [senior] Ezra [Rudel]—it was super fun and had lots going on."
For senior Fritz Duverglas, the best part of the night wasn't listening to the music, but playing it. "I loved playing Lingus in the Big Band because that song always gets me going because of how different it [is] from all of the others." Duval agreed with Duverglas: "We worked really hard on that piece, and I'm really glad it turned out so well." Both Duverglas and Duval have been playing their respective instruments, trumpet and saxophone, since elementary school. However, Duval joined the Big Band last year, while Duverglas joined earlier this year.
Director of the Big Band, Nathan Powers, believes that by giving student musicians an avenue to perform at live venues outside of the school, he is providing them with an "opportunity to apply real-world experiences for musicians. Professional players perform in various types of settings."
This piece also appears in our May 2019 print edition.
About the Writer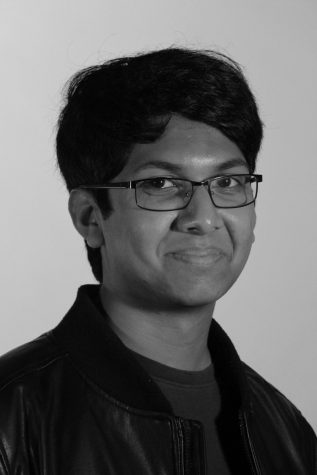 Sakib Asraf, Photography Editor
What elementary school did you go to?

Baldwin

What other activities are you involved in at CRLS and/or in the community?

I'm an active member...