In Defense of the Boston Free Speech Rally
Youssef Zerbouaa, Contributing Writer
September 28, 2017
I was inside the bandstand with fellow free speech advocates on the Boston Common on August 19th, 2017 during the Boston Free Speech Rally. 40,000 counter-protesters surrounded the bandstand during the rally.
You might be surprised, maybe even wondering why a CRLS student went to an alleged "white supremacist" rally. I realize that Boston Mayor Marty Walsh told people leading up to the rally that hate groups were coming to Boston, but the Boston Globe wrote an article which had a perfect quote to describe that day: "'Excuse me,' one man in the counter-protest innocently asked a Globe reporter. 'Where are the white supremacists?'" From my perspective, the 40,000 counter-protesters at the Boston Free Speech Rally got duped.
June 17th was the day when Boston Free Speech announced on its Facebook page that the group would have an event on August 19th. In the same post, Boston Free Speech disassociated itself from "Unite the Right," a group that later rallied in Charlottesville. All of this happened two months before white supremacy and neo-Nazism were promoted at the rally in Charlottesville.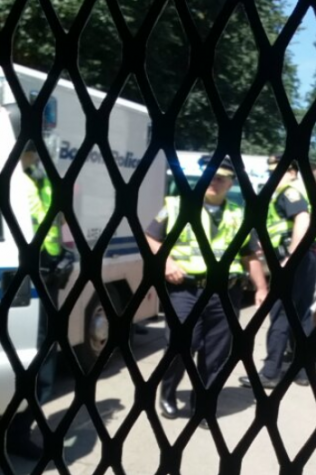 Now, who is the Boston Free Speech Coalition (known on Facebook as just "Boston Free Speech")? The group describes themselves on their Facebook page as "a coalition of libertarians, progressives, conservatives, and independents," that is willing to "peaceably engage in open dialogue about the threats to, and importance of, free speech and civil liberties."
At the rally, there was an Indian speaker, Dr. Shiva Ayyadurai. Ayyadurai is a Republican U.S Senate candidate who will be opposing Elizabeth Warren in the 2018 election. As he was speaking, I saw "Black Lives DO Matter" signs held up by the attendees of the Free Speech Rally. He ended his speech by telling the crowd to chant one word three times: "love." This is what the 40,000 counter-protesters were protesting, which I find to be absolutely ridiculous. It goes to show that when it came to the counter-protesters, most had no idea what they were protesting. The counter-protesters were protesting Nazis and white supremacists, but the Boston Free Speech Coalition and the people who attended the rally were not either of those things.
Daniel Medina, a black man from Boston, also spoke at the Free Speech Rally. Medina said, "Imagine what we can accomplish if all human consciousness was on the same frequency. The word impossible wouldn't even exist." Medina's words are something I think we can all agree on.
Would a white supremacist, neo-Nazi rally have an Indian speaker and a black speaker? Would a white-nationalist rally have "Black Lives DO Matter" signs? From my perspective, the speakers at the rally spoke about unity, love, and most importantly, free speech.
This piece also appears in our September print edition.