Black History Month Assembly
Nick Wiggington, Contributing Writer
March 3, 2019
On February 27th, students attended the CRLS Black History Month Assembly. The event was organized by the Black Student Union (BSU) here at Rindge. Students cheered for co-hosts Jose Moreno '20 and Starr Miller '20, who introduced performances such as a reading/interpretive dance adaptation of the poem "Strange Fruit," an original rap performance "U.N.I.T.Y" written by Javon Carpenter '19 and Casey Torres '19, and performances by CRLS' very own Modern Dance Company, Step Team, and chorus.
A police testimony featuring Lucas Rojas Rodriguez Jr. '19 and Lucas Tedesco '20 shed light on recent issues of race, as well as police brutality and misconduct. After the assembly, Tedesco said, "I just spoke honestly, and so did [Rodriguez]. We got up there and spoke from the heart."
The event also celebrated many successful African Americans, such as Ida B. Wells, Jedidah Isler, Coretta Scott King, Barack and Michelle Obama, and many more. It concluded with a special performance of "We Are the World" by beloved CRLS faculty and staff.
The performance of the original rap "U.N.I.T.Y"—or "Unity"—by Carpenter struck a chord with many students. Cheering and shouting, students sang along and stood up in their seats. Leslie Davis, coordinating director of the event and A.V.I.D. teacher at CRLS, had high praise for Carpenter. "He's amazing, and that's why I ask him to do it every year."
The warm and heartfelt performance of "We Are the World" inspired and moved students. The audience was active during the performance—many people were cheering, applauding, and waving flashlights. It kindled a feeling of kinsmanship and camaraderie among all in attendance, bringing together the whole CRLS community.
Moreno, the aforementioned co-host, also emphasized that it "brought everyone together no matter where they were from." Students and faculty alike were amazed by the teachers that performed—biology teacher Tomika Moody was "amazed by the faculties' musical talents, and didn't realize Mr. Tynes could sing and play the saxophone!"  
Students were also passionate about the reading of "Strange Fruit" by junior Reham Zeroual. "I really liked the reading of 'Strange Fruit.' It was really moving!," said Chelsea Bernard, another CRLS junior. Below are the lyrics of Strange Fruit, originally written by Billie Holiday.
In a final thought, Ms. Davis said, "I've been doing this for thirteen years, and yet I knew this year it was going to be the best one yet. We had [about] 100 kids involved from every walk of life."
The assembly embodied the strong sense of community we have here at CRLS—it was truly an awe-inspiring and eye-opening experience for all.
This piece also appears in our March 2019 print edition.
About the Contributor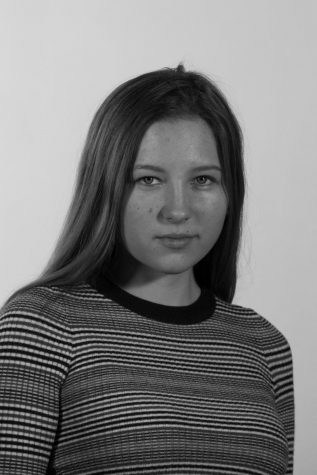 Lucy Messineo-Witt, Photography Editor
What elementary school did you go to?

Shady Hill School

What other activities are you involved in at CRLS and/or in the community?

Sisters on...