History of the CRLS Mascot
The Problem with the Ideals of Our Old Mascot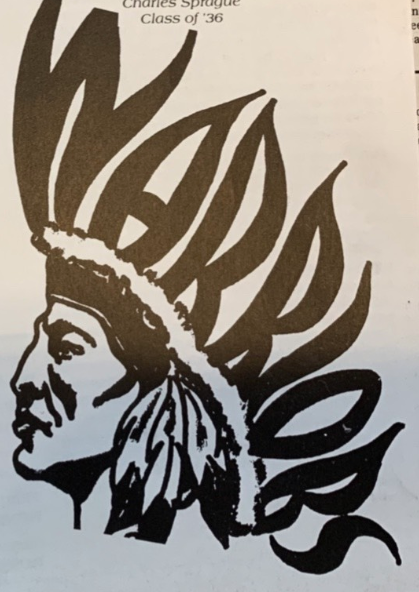 Until 1989, the CRLS mascot was a side profile of an angry Native-American man, which stood for their sports team name, "The Warriors." Many Native-Americans and others in the school felt as if the mascot and the name portrayed indigenous people negatively, which created a big conversation at the time. Former student Brook Dooley wrote in a 1989 edition of the Register Forum "the picture of the Warrior wasn't introduced until 1972." The Warrior mascot was used for 17 years before it was addressed as a problematic image and name.
Another student wrote in a 1989 Register Forum, "The issue [of the school mascot] has been on the student government agenda for the past few years but nothing had come of it." Change began to occur after then-Superintendent Mary Lou McGrath reviewed a tape made by the student government discussing the issue. She decided to get rid of the mascot and the name, not wanting to risk keeping it since it offended some in school. Some members of the student government were angered by the Superintendent's executive decision to change the mascot because they wanted to hold an educational campaign culminating in an all-school vote. In order to give the students a say, the school held a competition where students entered drawings and ideas for a new mascot. Out of 60 submissions, the Falcon won the competition.
Locally, as well as on the national level some teams still use an offensive portrayal of an indigenous person as their mascot. Winchester High School and professional sports teams such as the Cleveland Indians (baseball) and the Washington Redskins (football), are a few examples. While many national sports teams decided to get rid of offensive mascots and names, some still haven't. These teams still receive a lot of media attention and many people are very angry about the lack of change in mascots and team names.
Some schools, such as Brookline High School, have had similar Native American mascots in the past. Recently, Brookline followed suit and changed their mascot to a Spartan after holding a school-wide vote in 2014. Unfortunately, the use of racially insensitive mascots is still a common practice throughout America.
One member of the CRLS community, freshman Charlie Reed, shared his opinion about the old mascot, saying, "Thinking about the mascot at CRLS about 30 years ago is very interesting, especially given that this is where we grow up. Cambridge's problematic past with the mascot, in comparison to how things are now, is surprising." CRLS students have always been involved in positive change within the school and, to this day, are actively working on improving and working through both the school's and societies systematic inequalities.
This piece also appears in our January 2019 print edition.