Girls Hockey Looks Ahead
At 5 AM on Thursday mornings, while most CRLS students are asleep, the girls hockey team is waking up for a 6 AM practice before school at Simoni Ice Rink in East Cambridge. According to Head Coach Katelyn Greene, "It takes a very strong will and a lot of commitment and dedication to become a great hockey player." The team proves their commitment to the sport through their dedication to these early practices.
The girls hockey program is unlike most other athletic teams at CRLS; the team is made up of both players from Somerville and Cambridge, as well as a few eighth-grade players from both cities' middle schools. On the benefits of this variety of players, Alice Dyer '20 notes, "I get to know more players, [and] it also means that our senior captains this year [Claire McNeill '19 and Maggie Bayly '19] have been a part of the team for five seasons."
A season in the life of a girls hockey player includes on-ice practice from 4-4:50 PM after an off-ice workout three days a week and a 6-7 AM on-ice practice once a week before school. Game days are Wednesdays and Saturdays.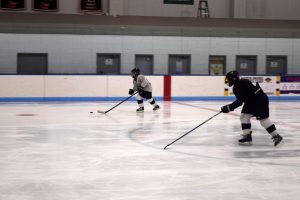 The coaching staff this year includes Head Coach Katelyn Green, Junior Varsity Coach Nicole Read, Assistant Coach as well as former CRLS girls hockey alumna Bella Corcione '17, and Assistant Coach Allie Aiello.
"
It takes a very strong will and a lot of commitment."
— Katelyn Green, Head Coach
Although their record last year may not have been outstanding, the team is eager to improve this year. Greene explains, "Our short-term goals for this year are to improve on our 2-18 record from last season." Similarly, Maya Steinberg '20 notes, "This season, we are really trying to grow as a team and get more wins in our record than last year."
Greene also mentioned that one of the long-term goals for the program is to make it to the state tournament and past the first round of play.
This is Greene's seventh season as Head Coach, and as someone who has played hockey herself throughout high school and college, she is familiar with the importance of girls hockey: "There were not many girls high school programs when I was growing up. I played on the boys team, so I missed out on a lot of the great aspects of being surrounded by strong girls that play the game of hockey, as well as making a lot of great friends through the game. … I am thrilled the girls here can have that experience at the high school level."
Upcoming Games:
Sat 2/2/19 5:20 PM
Concord-Carlisle High School @ Cambridge Rindge & Latin School — Simoni Rink
Wed 2/6/19 7:30 PM
Cambridge Rindge & Latin School @ Wayland High School — The Rivers School
Sat 2/9/19 5:20 PM
Waltham High School @ Cambridge Rindge & Latin School — Simoni Rink
This piece also appears in our January 2019 print edition.