A New Year of the High School Extension Program
An Interview with Principal Ryan Souliotis
Ryan Souliotis is the new principal of the High School Extension Program, located at 359 Broadway. As the school year began, the Register Forum talked to Mr. Souliotis about what's in store for the Extension Program this year. The Extension Program currently serves 34 students—mostly juniors and seniors—and Mr. Souliotis says the goal is to increase enrollment to 60 students by the end of the year.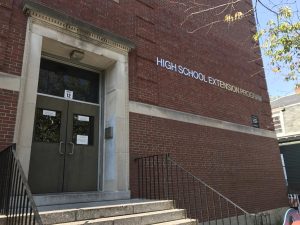 Register Forum: First, can you tell us a little bit about yourself and your background in education?
Ryan Souliotis: I am from Salisbury, Massachusetts—I went to high school at Triton Regional High School. I was captain of the baseball and basketball teams, really enjoyed my education, went on to Bates College in Lewiston, Maine, majored in political science and minored in education, and right out of college, I went and taught right back at my alma mater, Triton Regional High School. … I taught history there and was the varsity boys basketball coach, and then I left there after four years—I just felt like it was time to move on, do something different than just stay in [my] hometown forever—so I went to Cristo Rey [in] Boston for a year, taught history, coached basketball there, and then went on to Lawrence High School for the past five years.
I taught history there, I was the history department chair, and then I was the dean of curriculum and instruction for the high school. So I worked with about 25 to 30 teachers and about 125 students there last year, and I had a really great time but wanted a change—wanted a principal role. What kind of brought me to Cambridge Public Schools is just its reputation as one of the better school districts in terms of innovation and resources, so when I saw the posting for the High School Extension Program, I was really thrilled to have the opportunity to interview here. It's a really small school with a ton of potential, so I thought it was a really good fit for me as a first time principal, and I'm excited to get started here this year and bring about positive change.
"
It's a really small school with a ton of potential, so I thought it was a really good fit for me as a first time principal.
— Ryan Souliotis
RF: For people who might not be familiar with it, what is the High School Extension Program?
RS: The High School Extension Program is an alternative program for students in [grades] nine through twelve who are struggling to finish high school—that's how it's currently listed as a program. So most of our students are not enjoying the larger setting of CRLS and want a smaller setting so that they can be more successful with more close supervision of their academics and attendance.
But we're hoping to change kind of the definition of the High School Extension Program this year [to make it] more of an innovation school. So over the course of this year our students are working on re-imagining what the High School Extension Program is and how we can offer a true alternative to what's being offered at Cambridge Rindge and Latin School. So hopefully by the end of 2017-2018 we'll have a better sense of what the High School Extension Program is and also have a new name attached to it.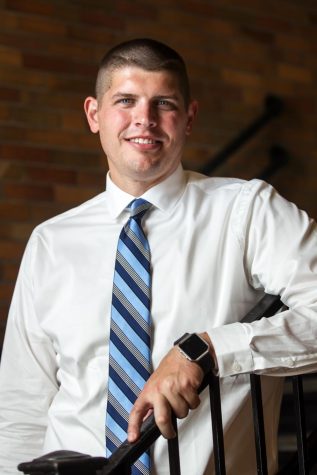 RF: What do you think your students would want people to know about the Extension Program?
RS: I think what they want the greater community to know is that there are some really positive things that are happening here—I think the Extension School has had a negative reputation as a place that students have been forced to. I think what they would want you to know is that this is their own personal choice to be here, and the school has some really positive attributes to it—we have small class sizes, we're going to project-based learning this year. So if the traditional educational setting is not for you and you would like a more focused education where you're doing some more creative things in the classroom around project-based learning or career exploration, this is the place to come to in Cambridge.
I think we're just trying to work on spreading the word about the good things that are happening here and the changes that we're making to the school [that are] student-led, which I don't think a lot of people are aware of…that a lot of the change we're making this year is student-driven, not faculty-driven, so they have a strong voice in that process.
RF: How would you describe the relationship between CRLS and the Extension Program?
RS: So far, I mean I've only been working here for a few months, but all of the interactions that I've had with the leadership at CRLS have been extremely positive. I think we're trying to build a collaborative relationship between the two programs, which I don't think has been there in the past. So we're trying to have open communication lines, we're trying to make sure that our students at High School Extension are offered opportunities to go up to the main campus and participate in assemblies and sports and activities, and [we're working on] letting them know that they have those opportunities. And as an administrative team, I think between here and CRLS we're just trying to make sure that we're setting up the students for success in placement—if there are students up there who could benefit from coming down here, I think we're working on streamlining that process so it's not as difficult for students to come down here if they want to.
RF: Coming into your role this year, what is your impression of what the program's biggest challenges and successes have been in recent years?
RS: In terms of challenges, attendance is number one, with a big gold star. We need to have students coming into the building everyday, and coming into the building on time. That's our biggest initiative right now in the building—making sure students get here everyday. So our first step is getting them to come in the door regardless of what time they come in the door, and then as that progresses—and we're kind of getting there already—the next step would be getting them here on time everyday. Last year, the attendance at the Extension School was really low in the spring. We've got that up to 85% of students attending, as of today, which is a really great number for our students. So that would be the biggest challenge for us. In terms of successes, I think we get kids to the finish line. A lot of students are coming down here with the number one goal of graduation, that's what they want to accomplish, and I think that the staff here has done an incredible job of getting students there and finding a personalized pathway for that…finding what works for each individual student. And our school is small enough that whoever comes down here, we'll find a way to make it work for you—we'll find what works in the classroom, we'll find what motivates you, and we'll work with you and your family to get you to your goal, which is to finish high school.
RF: What are your goals for the program this year?
RS: Goals for this year…one, we want to get our average daily attendance to 85%, and having students showing up everyday. We're also implementing project-based authentic learning into the classrooms, and we're piloting that this year with our Wednesday schedule. So we have students working in career-based pathways on projects that are going to be improving the school. We have students that are working on, for example, marketing and branding of the school—like what should the school name be, new school logo, creating hats, t-shirts, sweatshirts with the new school logo and colors on [them]—we have students that are working in communications, working in business management, finance—we're starting a school store.
So those are our two biggest goals: making sure that students come through the door, and when they do come through the door, that they're learning and engaged in a way that is going to keep them coming through the door.
This piece also appears in our September print edition.