Vegetables For This Winter
Three comforting, fresh recipes
Hang on for a minute...we're trying to find some more stories you might like.
While I have been doing more than my fair share of baking cookies and cakes this winter, I always feel sluggish eating so many sweets.
These are a few vegetable-focused recipes that are warm, delicious, and comforting—the perfect way to bring some freshness back into the winter months.
Honeynut Squash with Brown Butter, Maple, and Walnuts
Ingredients:
2 honeynut squashes, halved and seeded
½ cup water
½ stick butter
¼ cup walnuts, broken into pieces
1 tbsp maple syrup
Salt, to taste
Juice of half a lemon
Directions:
Preheat oven to 425˚F.
Place squash halves face down in a roasting pan and add ½ cup of water, or enough to lightly cover the bottom. Cover with aluminum foil and roast until soft, around 45 minutes.
Take off foil and roast for another 10 minutes. In a pan over medium heat, melt butter and cook until it foams and browns. 
Add in walnut pieces, maple syrup, lemon juice, and salt, stirring constantly. Spoon sauce over squash, squeeze on more lemon as needed, and serve.
Roasted Broccolini with Tahini and Toasted Almonds
Ingredients:
1 bunch broccolini
1-2 tbsp olive oil
2 tbsp tahini
1 tbsp lemon juice
Salt
Directions:
Preheat oven to 425ºF.
In a dry pan over medium heat, toast almonds, stirring often, until golden brown and fragrant, about 3-5 minutes.
Roughly chop broccolini into 3-inch pieces, and toss with olive oil and salt. Spread out on a baking sheet and roast for 18-20 minutes, or until edges are dark and crispy.
Meanwhile, whisk together tahini, lemon juice, and a pinch of salt. Add water until the sauce is the consistency of pancake batter (it will get thicker before it loosens). Set aside.
To serve, arrange broccolini, and top with tahini and almonds.
Whole-Roasted Carrots with Harissa
Ingredients:
1 pound carrots, halved and scrubbed
½ tbsp honey
1 tsp harissa
3 tbsp olive oil
Large pinch of Maras pepper
Pinch of salt
Plain Greek yogurt
Directions:
Preheat oven to 450ºF.
Mix together honey, harissa, olive oil, pepper, and salt in a small bowl.
Put carrot halves in a roasting pan, and toss with glaze. Roast, tossing occasionally, until soft and caramelized (around 50-55 minutes).
Serve with a dollop of yogurt and a drizzle of olive oil.
This piece also appears in our December 2018 print edition.
About the Writer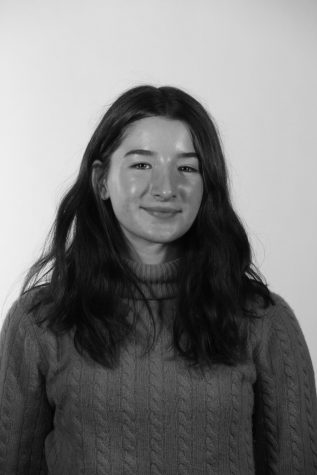 Miriam Alvarez-Rosenbloom, Layout Designer
What elementary school did you go to?

Amigos

What other activities are you involved in at CRLS and/or in the community?

Food Justice Club, Project...