Behind the Scenes: A Look into the CRLS Cafeteria
For Charron Alves '90, a station leader in the cafeteria, and Ian Lavallee, the kitchen manager, the day in the CRLS kitchen starts at 5:45 AM. Ms. Alves likes to get to the school before her shift, which starts at 6:30 AM, to eat breakfast and prepare for the day. At dawn, Mr. Lavallee turns on ovens and equipment in both kitchens, strolls through the walk-in refrigerators, and takes out ingredients to be used that day.
CRLS has two cafeterias: the Main Cafeteria and the Media Cafe. On average, the Main Cafeteria serves over 550 meals daily, and the Media Cafe serves over 200. Coordinating this is no easy task, said Ms. Alves: "It can be crazy some days." The Main Cafeteria has a separate pasta station, and both have a soup and salad bar. The Main Cafeteria serves hot meat options and the Media Cafe has hot vegetarian options along with some meat options."We generally try to make something for everybody," said Mr. Lavallee, regarding dietary restrictions.
Much of the food served in the cafeterias is sourced locally. Mr. Lavallee noted that the school has a partnership with Drumlin Farm and sources some produce from them. "Whatever the harvest is for that time, we get an abundance of it," he explained. The cafeteria also sources chicken from Mayflower Poultry, which is "right down the street," according to Lavallee.
Additionally, almost all of the food in the cafeterias is cooked on site. "We are a scratch-cooked kitchen," said Mr. Lavallee. "99% of our food is [cooked from scratch], restaurant style." The attention to local sourcing and freshly made food makes CRLS' cafeteria unique, said Ms. Alves. "We definitely—by far—have better food [than other American schools]. It's not all government food," she said. "It's not just, 'Take it out of the freezer [and] pop it in the oven.' It's a lot healthier; there's more variety."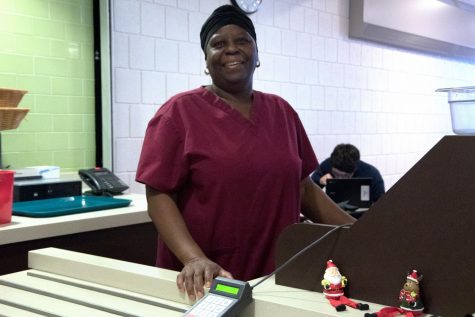 When Ms. Alves was a student at CRLS, she "never ate in the cafeteria." But, she said, "If they had the food [they have today], I would [have]. I would definitely be eating in the [cafeteria] a little bit more than I did in high school."
"I think it's pretty good for school food," said Kaden Song-Weiss, an eighth-grade homeschooler who comes to CRLS for some classes. Conor Latimer-Ireland '20, who eats in the cafeteria "most of the time," appreciates that it is inexpensive and easy to access.
Zineb Bouhi '20, who eats lunch in the Media Cafe, also appreciates that "it's a nice environment to be around" and is "pretty quiet." Additionally, she cited her interactions with the cafeteria employees as one of the reasons she enjoys eating there. "The [staff members] are really nice to me and my friends," she said. "They love us, so that's really nice."
For many staff members in the cafeteria, working around CRLS students is a highlight of their job. "I enjoy working with the kids," said Ms. Alves. "[I enjoy] seeing them [and seeing] that they're happy. They like food; they're fun!" Cafeteria employee Michelle Greene '81 also values her relationships with the students, whom she interacts with when greeting them at the start of every lunch. "Be a winner; don't be a loser," she said, quoting herself. "I'll tell them stuff like that."
Ms. Greene's relationships with the students extend beyond the cafeteria. "I'm in the kitchen right now, but I'm trying to do other things. I'm trying to reach out to the children, and instruct them in the right direction."
Mr. Lavallee, who worked in the elementary schools before coming to Rindge, said that his interactions with students have always meant a lot to him. "We're here for the kids," he affirmed.
This piece also appears in our December 2018 print edition.