Pear Ginger Cake
Hang on for a minute...we're trying to find some more stories you might like.
This cake is soft, delicate, rich, and combines some of my favorite fall flavors. Browning the butter is an extra step but is as easy as simply melting it, and the subtle nuttiness it will add to the cake is worth the extra few minutes. I used red pears and kept the skins on, which added a nice touch of color.
Ingredients:
1 stick unsalted butter
1 tsp ground cinnamon
1 tsp orange zest
3 tsp fresh ginger, grated finely
1 tsp vanilla paste
1 cup Greek yogurt
2 eggs plus 1 yolk
¼ cup brown sugar
¾ cup white sugar
1 cup flour
1 tsp baking powder
1/2 tsp salt
3-4 pears
Optional: coarse sugar
Instructions:
Preheat oven to 350º F. Butter and flour a 9-inch cake pan.
Add butter to a small saucepan over medium-low heat. Cook, stirring often, until it foams and starts to turn a light brown color. It should smell nutty and there should be brown flecks in the bottom. Transfer to a small bowl and let cool. Add cinnamon, orange zest, ginger, vanilla, and yogurt, whisking to combine.
In a separate bowl, whisk eggs and sugars by hand until thick, about 1 minute. You might have to first mix the sugars together to break up any lumps.
In a medium bowl, whisk together flour, baking powder, and salt. Add butter mixture into egg mixture, and then fold in the dry ingredients.
Dice two pears into medium-small chunks, then gently incorporate into the batter. Pour batter into pan and chill. In the meantime, slice remaining pears into wedges. Arrange on top of batter however you'd like, then sprinkle with sugar.
Bake for 45-50 minutes, until the cake is golden brown and a toothpick inserted in the center comes out clean. Let rest in pan for 10 minutes before transferring to a wire rack.
Cake keeps for 1-2 days wrapped at room temperature.
This piece also appears in our October 2018 print edition.
About the Contributor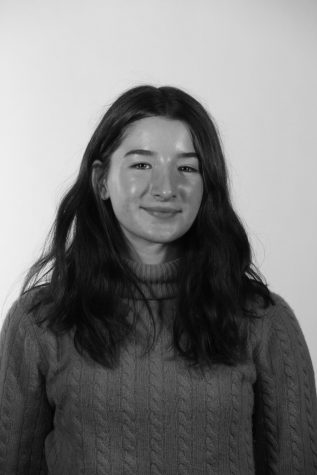 Miriam Alvarez-Rosenbloom, Layout Designer
What elementary school did you go to?

Amigos

What other activities are you involved in at CRLS and/or in the community?

Food Justice Club, Project...