STARs Continues to Shine Bright after 20 Years
If you've ever wondered where the posters that line the second floor bridge come from, attended a student-led assembly, or encountered problems within our community that you want to actively speak up against, I'd encourage you to visit room 2201, home to a CRLS exclusive class: STARs. Inside these green walls, students are constantly making change and raising awareness on topics that directly impact our school, our city, our lives.
This year marks the 20th anniversary of STARs, a "peer leadership and community action class where students discuss and take action on real and relevant issues that they feel passionately about," according to Sharon Lozada, the current teacher of STARS. Ms. Lozada has been teaching the class for the past ten years.
Though Mikael Reyes is a junior taking STARs for the first time this year, he has already noticed the large impact that this class can have, and sees it as "a way to give back to the community."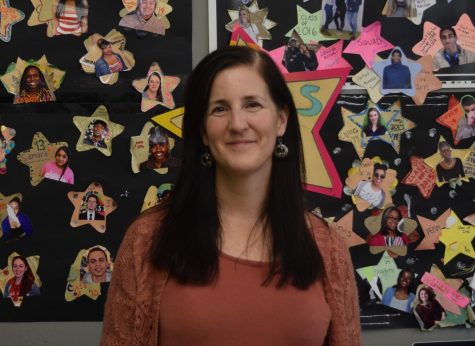 The concept behind the class is laid out in its title: Students Teaching and Advocating Respect. It flips the script, giving students a platform to raise awareness on issues that pertain directly to them, instead of allowing adults to assume what are prevalent matters in teen lives.  

For example, Carla Abeya '19 took this class during her junior year and is taking it again as a senior. Last year, she created a "workshop on school shootings and how to prevent them," and this year she hopes to "spread awareness about transphobia and how to respect people's genders" and pronoun preferences.

Student opinion is something that is claimed to be valued at CRLS. But often times, this collective voice is lost in translation. Having a narrative that comes from students as opposed to adults is what STARs values.

"

A narrative that comes from students is what STARs values."

STARs was founded back in 1998 by Eileen Taxe-Levine of the CRLS health department as a platform for students to exercise leadership positions amongst their peers.

When asked, Peterlee Dorielan and Gassendina Lubintus—two seniors who had the pleasure of taking the class last year—had similar advice to give to future STARs students: take advantage of the resources. While a big part of the experience is a 'pay-it-forward' mindset focused on taking action that will better the lives of others, it's important to make use of everything this class has to offer.

In the universe, the brighter the star, the faster it burns out. But this law does not apply to the STARs that have continued to flourish over the past 20 years, and will continue to do so for many more. As Ms. Lozada put it, "It's an experience that students take with them and apply to their own lives after they leave their meaningful legacy to the rest of us."

This piece also appears in our October 2018 edition.