NFL Week One Recap
Hang on for a minute...we're trying to find some more stories you might like.
The NFL season finally started last weekend with lots of promise and huge storylines—stars returning from injuries, familiar faces on new teams, and record-breaking player contracts. Here is a full report of the games and how they played out.
Score Report:
Eagles 18 – Falcons 12: The NFL kicked off on Thursday, September 6th with an NFC Championship rematch between the Philadelphia Eagles and the Atlanta Falcons. The game did not feature much offense with Eagles QB Carson Wentz still injured. The new offensive coordinator for the Falcons failed to involve superstar wide receiver Julio Jones in the red zone. The Falcons red-zone efficiency led them to a tough 18–12 week one loss.
Ravens 47 – Bills 3: One of the stories coming out of the offseason was how Buffalo's new look team would fare under quarterback Nathan Peterman. The struggles under center continued for Peterman who finished with a putrid stat line. Meanwhile, Ravens QB Joe Flacco generated some hype with his performance in the first game of this season. He has secured the starting job over Lamar Jackson and likely will keep it if he plays like this every Sunday.
Jaguars 20 – Giants 15: Not a whole lot of offense showed up to play in New Jersey on Sunday. Saquon Barkley had the highlight of the day on offense with a 68 yard touchdown run. But it wasn't enough to take down Jacksonville and their star studded defense.
Buccaneers 48 – Saints 40: By all accounts, the Saints were supposed to run away with a win against the Winston-less Buccaneers. However, Harvard alumni Ryan Fitzpatrick erupted for 417 yards and four touchdowns in the shoot-out win.
Vikings 24 – 49ers 16: SF QB Jimmy Garoppolo came into week one with a lot of hype after his massive contract extension this offseason. However, his start was ruined by three interceptions, including one that went for a touchdown as the 49ers fell to the Kirk Cousin-led Vikings. Side note: SF CB Richard Sherman looked a little shaky in his first game back after missing all of last season due to a torn achilles.
Dolphins 27 – Titans 20: Absolutely crazy game in Florida as it was the first game in NFL history with multiple 2+ hour delays. It was a frustration-filled game that ended with a 34 point fourth quarter. Dolphins ended up running away with it in one of the longest games in NFL history.
Bengals 34 – Colts 23: The highly anticipated return of Colts QB Andrew Luck was spoiled by a rally in the final 20 minutes, led by Bengals QB Andy Dalton. Luck was a highlight, however, as he went 39–53 with 319 passing yards and two touchdowns with one interception.
Browns 21 – Steelers 21: This hype was evident in week one as the Browns, the perennial punching bags, played up to the level of the impressive Steelers. Browns QB Tyrod Taylor led the team to tie the game in the fourth and send the game to OT. The game ended with a blocked Browns field goal attempt but the game sent an obvious message: the Browns are not the bottom of the league anymore.
Chiefs 38 – Chargers 28: The flashy Chiefs offense easily handled the Chargers on Sunday, led by young gunslinger Patrick Mahomes and speedster receiver Tyreek Hill. Hill ended the game with 268 all-purpose yards and three touchdowns. Chargers QB Philip Rivers didn't receive any help from his receivers with over five dropped passes in the game.
Panthers 16 – Cowboys 8: The Panthers easily handled the Dallas Cowboys on Sunday. They stumped the offense and limited them to only one garbage time score. Former Cowboys receiver Dez Bryant told his Twitter followers that the outcome would have been different if he was still on the team.
Redskins 24 – Cardinals 6: Cardinals offense faltered under Sam Bradford, who couldn't get anything started. Redskins running back Adrian Peterson had a great game as the feature back with almost 100 yards and a touchdown.
Packers 24 – Bears 23: The first Sunday night football of this season started with a great rivalry game between the Green Bay Packers and the Chicago Bears. The game was also the first game in a year for the NFL's highest paid player, Packers QB Aaron Rodgers. Rodgers had a scare with his knee in the first half and had to be carted off. However, he returned to start the second half and lead the Packers back from a 20-point deficit for his first win in a year.
Jets 48 – Lions 17: Jets QB Sam Darnold started his NFL career with a pick six (interception returned for a touchdown) but rebounded quickly and led the Jets to a rout of the Matt Patricia-led Detroit Lions.
Rams 33 – Raiders 13: The Raiders made news by signing head coach John Gruden to an 100 million dollar coaching deal. In his highly anticipated return to coaching he lead the Raider's to a quick 13-10 halftime lead. However, the Rams' young and efficient offense could not be stopped in the second half as they went on to score 23 straight points. It was a tough game for the Raiders' defense, who recently traded future hall of fame DE Khalil Mack.
The Important Game:
The Patriots kicked off their NFL season on Sunday at 1:00 pm against the Houston Texans. There have been many questions about their offense—in particular, which receivers will be featured with the absence of Julian Edelman in the first four weeks. The Texans came into Foxborough with one of the highest ranked defenses in the league. They also had an exciting offense leed by elite QB Deshaun Watson and WR DeAndre Hopkins.
The game started well for the Patriots. They marched right down the field with a drive that ended with a 22-yard touchdown for pro bowl tight end Rob Gronkowski. 41-year-old Tom Brady went on to throw two more touchdowns in the first half, one to RB James White and one to receiver Phillip Dorsett. These scores helped the Patriots secure a 21–6 lead before heading to the locker room.
Houston tried to mount a comeback in the fourth quarter but it was too late. A punt by Ryan Allen to the Houston one-yard line iced the game and secured a 27–20 week one win for the Patriots. Brady was not impressed, however, and stated after the game that, "I don't think we played anywhere near what our capabilities are."
The Patriots played the Jacksonville Jaguars this past Sunday in a rematch of last year's AFC Championship at 4:25PM ET in Jacksonville, FL.
Things to note:
Rex Burkhead was the clear lead running back and saw 18 carries in the opener. He turned these into a measly 56 yards. We need to see more out of him in the future if we want to stay competitive in the run game.

TE Rob Gronkowski returned to peak form, catching seven out of eight targets for 123 yards and a touchdown. He got it done all over the field yet also managed to yield the first fumble of his career.

WR Phillip Dorsett soaked up all seven of his targets for only 66 yards and a touchdown and looks to have gained the trust of Brady and a large share of the targets in Edelman's absence.

WR Chris Hogan was nowhere in the game plan on Sunday and even committed a drop on one of his five targets. This came as a surprise after he was heavily used in the preseason.

Rookie WR Riley McCarron fumbled on a punt return that almost allowed the Texans to re-enter the game.

Patriots CB Stephon Gilmore suffered against WR DeAndre Hopkins and got flagged for holding multiple times during the day including twice in the red zone. However, he did make a defensive highlight when he picked off Texans QB Deshaun Watson in the end zone.

Both DE Deatrich Wise Jr. and DE Trey Flowers recorded 1.5 sacks in the game and pressured Watson throughout the entire game.

Punter Ryan Allen, after speculation about his job security all camp, came out and turned in an amazing punting performance including one that ended up icing the game in the last two minutes.

On Tuesday, the Patriots signed WR Corey Coleman to help bolster the Julian Edelman-less receiving core.
About the Writer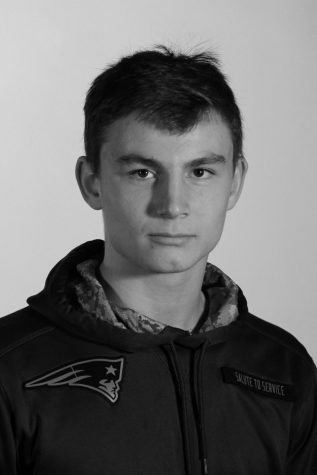 Max Davis, Sports Editor
What elementary school did you go to?

Shady Hill School

What other activities are you involved in at CRLS and/or in the community?

Mentoring,...