CRLS LGBTQ+ Student Group Holds Day of Silence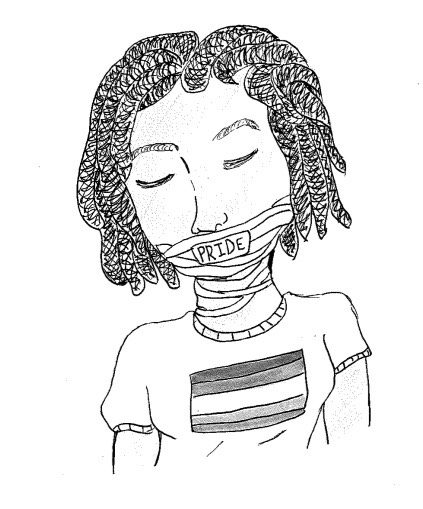 On Friday, April 27th, CRLS students and faculty joined people across the United States by taking part in the Day of Silence. Organized by Project 10 East (P10)—CRLS' LGBTQ+ student group—the Day of Silence is "a national day of solidarity where students and non-students choose to be silent for the day to understand how LGBTQ+ students are silenced in the classroom and in their daily lives," according to P10 Vice President Annie Slate '19.
The Day of Silence was first observed at the University of Virginia in 1996 and has since spread to a variety of levels of education in America, according to GLSEN, an organization supporting LGBTQ+ students. On the morning of the Day of Silence, P10 members and allies begin by distributing stickers to students and faculty. There are two different sticker options; one explains that the person wearing the sticker is a silent supporter, meaning that they will not be speaking at all during the school day. The other explains that the wearer is a vocal supporter, which means they are in solidarity with the Day of Silence but will be speaking.
Along with the stickers, pamphlets providing statistics, resources, and an explanation of the purpose of the day are also handed out.
The silencing that LGBTQ+ people face due to bullying, harassment, the inability to come out, and more has been a widespread and ongoing issue, especially in educational environments. Junior and P10 Co-President Naima Saini explained that silencing comes in many forms and "could mean people who have been targets of violence, but also people who haven't been able to come out."
This year, P10 decided to focus the awareness of CRLS' Day of Silence "around trans women of color, who are disproportionately affected by hate crimes and violence against LGBTQ+ people," said P10 advisor Ms. King.
Slate added, "This year and the few past years have had unprecedented amounts of violence towards trans women of color, particularly black and Latinx trans women." According to P10's pamphlet, 102 transgender people have been killed between 2013 and 2017, 87 of whom were people of color and 88 of whom were transgender women.
P10 Co-President Dorothy Levine '19 commented that the Day of Silence "went well this year," adding, "A lot of people participated—even people that aren't involved in P10." Slate encouraged CRLS students and faculty to participate in the future, saying that the Day of Silence is "a really great sign of solidarity to fellow LGBTQ+ students."
P10 member Megan Kelliher '19 added, "Seeing people being silent on the Day of Silence means that people in our community are aware that people in the LGBT community are being silenced and they care."
For more information or support, attend a P10 meeting after school on Thursdays in Ms. King's room, Room 3103.
This piece also appears in our May print edition.