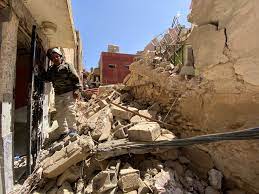 Rescue teams are sifting through debris and attempting to access remote communities following a catastrophic earthquake in Morocco that claimed the lives of thousands and left thousands more injured or unaccounted for. The quake was the strongest to hit the nation's center in over a century, killing at least 2,862 people and injuring 2,562, according to state media on Monday.
The earthquake occurred at approximately 11:11 PM local time (6:11 PM ET) on September 8th. Its epicenter was situated within the High Atlas mountain range, located approximately 44.7 miles to the southwest of Marrakech, a city with a population of around 840,000 residents. The tremors from the earthquake reverberated extensively, extending as far north as Casablanca. This earthquake registered a magnitude of 6.8, categorizing it as a "strong" quake, and struck at a relatively shallow depth, intensifying its force. Morocco has experienced earthquakes before, most notably in 1960, which resulted in over 12,000 casualties. However, few have matched the intensity of this one. While earthquakes of this size are uncommon in the region, they are not entirely unexpected. The US Geological Survey notes that nine earthquakes with a magnitude of 5 or higher have hit the area since 1900. However, none had a magnitude greater than 6, as was reported for the earthquake in September. Nearly 1,500 people were killed in the province of Al Haouz, where the earthquake struck with the greatest force. This region, like many others that were severely affected, lies south of Morocco, nestled at the foot of the Atlas Mountains, and includes remote villages and settlements that have proven challenging for rescuers to reach. More than 300,000 people have been affected in Marrakech and surrounding areas, according to the World Health Organization (WHO). 
"
In response to the devastating earthquake in Morocco, the global community has rallied to extend its support.
Historic sites have also been damaged by the quake, including a small mosque in the heart of the Marrakech Medina, the city's historical quarter, that had been categorized as a UNESCO World Heritage site. The Medina district is centuries old and is surrounded by red sandstone walls. Many of the old buildings inside the Medina have been damaged and some have completely collapsed.
In response to the devastating earthquake in Morocco, the global community has rallied to extend its support. France has activated emergency aid from local government funds and pledged 5 million euros ($5.3M) to non-governmental organizations operating in the country to bolster rescue efforts. Britain and Spain have deployed a team of search and rescue specialists, rescue equipment, and medical assessment teams. Despite diplomatic tensions, Algeria will reopen its airspace for humanitarian aid and medical flights. The Red Cross Society of China has pledged $200,000 in emergency humanitarian cash assistance to the Moroccan Red Crescent for rescue and relief efforts. Furthermore, the United Nations, US President Joe Biden, and the World Bank have all expressed their readiness to provide assistance, with the World Bank extending its "full support" to Morocco in this challenging time.