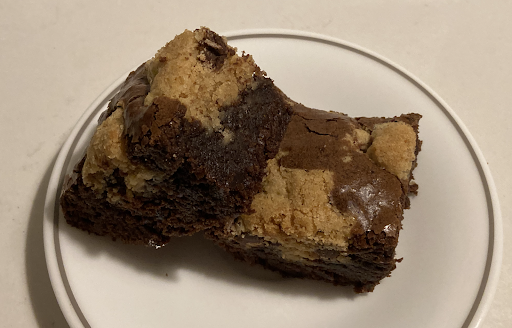 A delightful brownie-cookie hybrid for any occasion. 
Ingredients
For the brownie: 
-1 bar of semi-sweet chocolate, 3 ounces
-½ stick of butter
-1 cup all-purpose flour
-¾ cup cocoa powder
-½ teaspoon baking powder
-A pinch of salt
-⅔ cup sugar
-2 eggs
-½ cup chocolate chips
For the cookie:
-1 cup all-purpose flour
-½ tsp baking powder
-A pinch of salt
-⅔ sticks unsalted butter, melted
-⅔ cups packed brown sugar
-¼ cups white sugar
-1 egg
-½ cup chocolate chips
Instructions: 
Preheat oven to 350℉. Grease and line an 8×8 baking dish with parchment paper. 

Melt 1 bar of chocolate with the butter in a saucepan over low heat until fully melted, whisking occasionally. 

Take the butter and chocolate mixture off the heat and whisk until homogeneous. 

Stir the flour, cocoa powder, baking powder, and salt into a bowl. 

Add the sugar and eggs to the chocolate and butter mixture in the saucepan. 

Fold the flour mixture into the saucepan mixture and add the chocolate chips. 

Evenly distribute the dough in the lined baking dish.

Whisk the flour, baking powder, and salt together in a bowl. 

In a medium bowl, beat the butter, brown sugar, and white sugar using a whisk.  

Whisk in the eggs until fully incorporated.

Fold in the flour mixture and chocolate chips until no streaks remain. 

Spoon golf ball sized dollops of cookie dough onto the brownie batter in the pan about an inch apart until no cookie dough remains.

Bake between 25 and 30 minutes or until a toothpick inserted into the center comes out clean.

Cool for ten minutes, slice, and enjoy!
This article also appears in our September 2023 print edition.