CRLS Performs West Side Story
Fall Show Entertains, Cast Comments on Community
Every year, the CRLS visual and performing arts department puts on multiple shows over the course of the academic year. This month, the classic musical West Side Story was adapted at our very own 459 Broadway. The performance was a success, with an opening night sold out in advance online and very positive reactions.
Similar to the story of Romeo and Juliet, the musical follows the conflict between two rival gangs: the Caucasian Jets and the Puerto Rican Sharks. Things get unstable when Jet Tony falls in love with Shark Maria. The story is a timeless tale—one of opposing sides seeing the human in each other.
"
I think that the arts give people a way to be themselves in a way that academic environments don't. So having such a big production like we do here, it lets a lot of people be themselves."
— Sarah Valiente '21
Expressing yourself is hard, so whenever an outlet arises, tech member Sarah Valiente '21 thinks it should be used to its full potential: "I think that the arts give people a way to be themselves in a way that academic environments don't. So having such a big production like we do here, it lets a lot of people be themselves."
Many students at Rindge seek out the arts as an escape, or something that can lead them to greater things. For senior Atticus Olivet, who played Tony in West Side Story, that is exactly the case. The opportunity to participate in such an extensive arts program helped him find what he wanted to spend the rest of his life doing. "Coming into high school I was an athlete—that was what I did … it wasn't really until my sophomore year that I started taking up theatre, and that's when I started to catch the bug," he said.
Olivet cites his role in the fall 2015 musical, Footloose, as a starting point for him, saying, "Since then I've actually decided to do this with my life. … Having had all these wonderful opportunities and taken all these classes here … has helped me find something I'm good at and something that I like to do." Olivet isn't the only student that the arts department at CRLS has impacted. Senior Jonathan "Jojo" Cenescar played Bernardo, and his point of view on the program is that it is another option for people who would like to get involved in extracurriculars, particularly activities outside their comfort zone.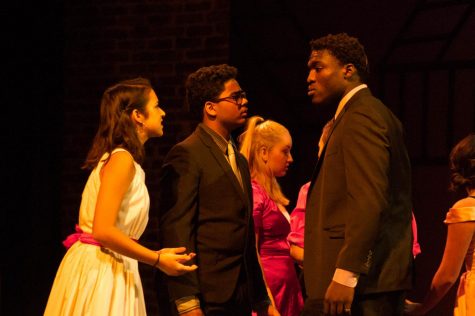 "I wanted to find something else to do, really. I didn't really like [playing] football [for CRLS], so I said I needed something else to do in the fall," said Cenescar. On the sacrifices he has had to make to commit to the musical, Cenescar told the Register Forum, "I definitely had to put basketball on hold, and that's a big thing, but I like doing this. And [that] makes it all worth it. … It doesn't matter how tired I am, every night here I'm putting on a show."
He added, "I've always thought I had some acting in me, and I like to entertain people, and I think that's what we do [here]." Senior and cast member Casey Torres had a parallel opinion to Cenescar's, saying that the arts at CRLS is important because of its nature as an "outlet for students." He described the way it allows teenagers to "express themselves." He added,  "[It's] a way [for people] to be social by being themselves on stage and off."
Sophomore Kamali Lopez Kuno, who played Anita, commented that the arts can do a lot for a person's development during their teen years. "You grow so much, not just as an actor, but as a person. … [With] In The Heights last year—that musical is so family based—I feel like I became so close with that entire cast last year," she said. Lopez Kuno also explained how she's benefitted from recent productions at CRLS. "I'm Latina, so I love getting to embrace that and getting to sing songs about my culture," she said, referencing productions of In the Heights and West Side Story.
Cenescar commented on why people don't join the drama department early on, saying, "It's kinda sad, actually. I wish I was involved with this way more. I wish that I'd been doing this since freshman year."
So, from the words of seniors with a foot out the door already, don't be afraid to try out for theatre productions, or the soccer team, or the cheerleading squad. Try whatever you can until you find the right fit. It might just work out.
Click here for more photos of the musical. This piece also appears in our November print edition.