Opera For All! An Interview with Award-Winning Soprano and Opera Director Stella Markou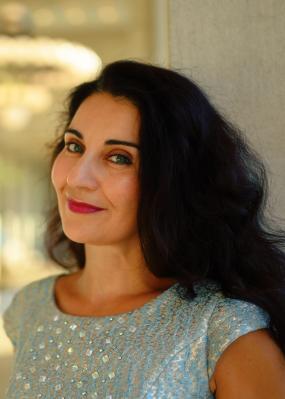 Interview has been edited for length and clarity.
Seeing Verdi's La Traviata recently at the New York Metropolitan Opera ("Met") was mind-blowing. I immediately felt the need to further explore ways that this art form can be accessible to high school students. I found out that the Met's educational programs bring opera to almost 30,000 students every year. Kamala Schelling, the Metropolitan Opera's educational content manager, who oversees all curricular materials for these programs very convincingly explained, "why this art form can—and should—be for students."
Operas tell stories that students can relate to. It sits at the center of a wonderfully wide web of classroom subjects—it needs all sorts of talents—from singing and composing to painting, sewing, or wielding a hammer, it can be made anywhere, and finally, it benefits from student engagement to grow and evolve. I found all these reasons fascinating and wanted to deepen this discussion, which is why I reached out to Dr. Stella Markou, a soprano, director, educator, and Associate Professor and Coordinator of Voice and Opera at the University of Kansas.
Her opera productions have twice won first place in the National Opera Association's opera production competition and have also won first place in the American Prize for Opera Production. We discussed—among other things—her passion for opera, her inspiration by Maria Callas, and her forthcoming new project on her divine art, in which she aims to display her vocals to people who don't know exactly what her artistry is. She said she was blessed to perform Violetta, La Traviata's heroine, with the University of Kansas Symphony Orchestra at the 2022 Vespers Concert, a performance she kindly shared with us. 
As someone who honors contemporary composers, she stressed the importance of celebrating the voices of the people living today. Markou said, "what many people do not realize is that opera is a way of social commentary and a way to enable change, have communications, and put everything in a broader context that can really affect diversity and communication along cross-generations." 
Register Forum (RF): To start off, I'd really like to know what drew you to opera.
Stella Markou (SM): I think the wonderful thing about opera is that it is storytelling told on a really epic level. So, being Greek, we like our mythology. We like our stories. We like our people to be larger than life, and not only did the opera draw upon life's characters, but they're magnified through the power and the beauty of what the human voice can do. That's something that's really quite extraordinary, to be able to piece epic storytelling with the extreme use of the human voice. 
RF: As an opera educator, do you think opera should be taught at the secondary education level? If so, why?
SM: First of all, music and the arts should be taught not only at the secondary level of education, but beginning from preschool and kindergarten, and throughout. Many times, opera gets a bad reputation because it's viewed as an elitist art form, but people must understand that opera is a form of art, and that just going through the process of it really sharpens and creates the human mind. So, it's not about the final product of the opera, but about the skill set one acquires whilst learning and putting up an opera that really pushes you. Also, you have a lot of operas based on contemporary books, movies, and so the genre of something being just opera by itself no longer exists, and I think that's a wonderful thing. It can definitely influence the younger minds. 
RF: You're a passionate performer of contemporary music. Do you think it's possible to get today's youth interested in opera?
SM: Absolutely! The great thing about all art forms—opera, orchestral, instrumental, etc., is that they develop the technological developments that are happening. So, for instance, opera sounds. Now, operas can be done with electroacoustic music and tape, something that never existed before! Opera can be done with visual arts. Now you can go to the opera, and instead of reading subtitles up in the balcony, you can have an app, and you can read those on your phone. So there are ways to make it accessible. 
RF: Do you have any advice for young students who are a little bit unfamiliar with opera today? 
SM:  My advice is to always be curious, to not be afraid of an unfamiliar art form. Opera does tell very poignant stories. If we take away the layers that we think separate us from understanding something and see those layers as just a means of being more curious and discovering different things, we can truly be rewarded. So be curious is my advice! Go support the arts and try to have new experiences that you think might not be for you. But allow yourself the opportunity to experience!