UNESCO Adds Harissa, Baguette, and Plum Brandy to Their Intangible Heritage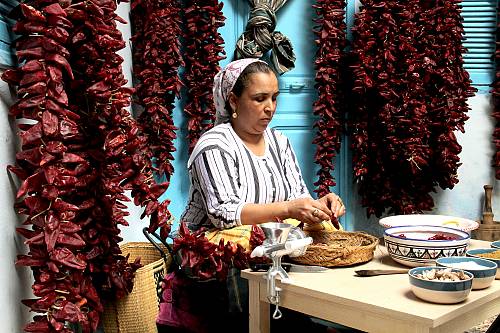 In the final weeks of November 2022, UNESCO (the United Nations Educational, Scientific and Cultural Organization) announced the addition of six foods and drinks to their Intangible Cultural Heritage list, following a conference in Rabat, Morocco. The six foods span continents and borders, from lesser-known foods and beverages like Serbian plum brandy and Tunisian harissa paste to the widely-known French baguette. Food-related traditions and practices, such as the culture of tea in Azerbaijan and Turkey—which UNESCO describes as, "an important social practice that shows hospitality, builds and maintains social ties, and is used to celebrate important moments in the lives of communities"—were also added to the list. 
Half a century ago, UNESCO began recognizing places and cultural practices around the world that have essential value to humanity. Recently, it has also begun recognizing food, beverages, and culinary traditions from across the world. During the 2003 Convention for Safeguarding the Intangible Cultural Heritage, it was declared that UNESCO's purposes were to safeguard cultural heritage; raise awareness at the local, national, and international levels on the importance of intangible heritage; and ensure mutual appreciation and respect for all communities, groups, and individuals concerned.
"
The addition of certain foods is not only culturally charged, but politically and economically charged as well."
The addition of certain foods is not only culturally charged, but politically and economically charged as well. The addition of the baguette to the list was made following France's culture ministry's warning of the continuous decline in traditional French bakeries due to competition with supermarkets and industrial bakeries. Due to the ongoing war, Ukraine asked UNESCO to fast-track the nomination of borscht to the list. In July 2022, Ukrainian borscht was added to UNESCO's "List of Intangible Cultural Heritage in Need of Urgent Safeguarding."
While the addition of food to a list may not seem historic to some, I believe it is. For the days following UNESCO's addition of the six foods, I saw firsthand how much it means to people as my mom scrolled through her Facebook feed filled with reposts of UNESCO's addition of Tunisian harissa to the list. From farmers to grandmothers to politicians, the addition of harissa is historic and crucial. Furthermore, in an increasingly interconnected world, the preservation of cultural heritage through food is essential for generations to come. As illustrated through UNESCO's list, food is not only a way of bringing people together, but a way to preserve centuries of history and tradition. 
This article also appears in our January 2023 print edition.