What We Can Learn from the MBTA's New Bus Network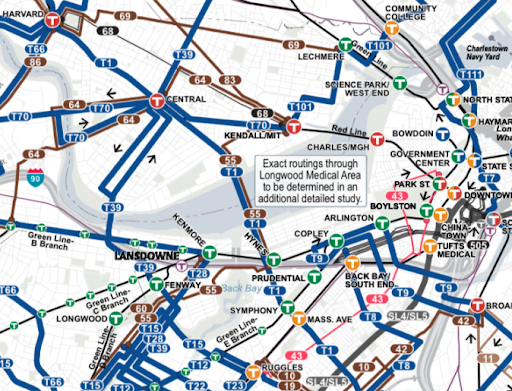 In late November, the board of directors for the Massachusetts Bay Transport Authority (MBTA) unanimously approved a plan to revamp and refurbish their bus network to meet the needs of the Boston metro area. This plan was initially unveiled in May of 2021 but has only just recently gained serious traction. The plan is intended to be rolled out in phases, and eventually completed by 2028.
In a recent article, Boston Mayor Michelle Wu told WBUR, Boston's NPR news station, "We need every step towards increased service frequency, more direct routes where people need to go, and a bus network that actually aligns with today's travel patterns." Wu has always talked about improving basic commodities in the city; this project will be a good test to see if she will walk the walk. 
"
There's a general consensus that the MBTA network … is not meeting the needs of students that use them regularly.
While headways and consistent service have been focal points for the CRLS community, there's a general consensus that the MBTA network, specifically the web of bus lines that serve the Boston metro, is not meeting the needs of students that use them regularly. Jaden Tran '24 told the Register Forum, "I think the MBTA has been inconveniently slow for passengers because you now have to wait like several minutes [for buses and trains] to arrive, which can be annoying." The sentiment is even echoed by former CRLS students such as Miles Taylor '18, author of the blog Miles In Transit. Taylor shared with the Register Forum, "When I'm at home in Boston, I use the T to get pretty much anywhere! By the end of the summer when frequencies were reduced, I found myself having to give myself a lot more padding to get places on time."
One glance at the new map reveals that most routes have had their alignments changed or extended to connect more areas. The key bus lines (routes with headways of 15 minutes or less, i.e. current route #39) will all have a "T" added in front of their current route number, as well as have minutes deducted from their current headways, in an effort to make waiting times more consistent. Disappointingly, the 68 and 69, two lines that serve CRLS as the primary way of getting to school for many students, do not appear to get an upgrade in the new network. 
Changes to a public transport system that are scaled as big as this project don't come around often. However, many believe that a soul-search for the MBTA's buses will almost certainly be for the better of the city. Nate Powers, CRLS band director, told the Register Forum, "I'm so on board with [Wu's plans]. Tear it all down, and redesign it from the ground up, because the system right now isn't working for enough people." With improvements to the major facets of the bus network, the effects of problems with trains will be neutralized to some extent, and more Boston area residents will have a reliable and consistent means of getting around the city.
This article also appears in our December 2022 print edition.