Staff Spotlight: Ian Lavalee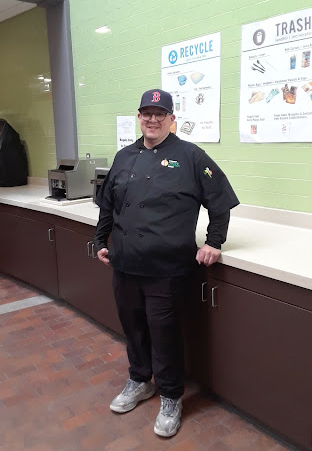 Ian Lavalee has been a food service worker in the Cambridge Public Schools system for almost 11 years. Lavalee began his career in the food service industry as the head of kitchen at the King Open School before moving to the Kennedy Longfellow and Peabody schools. He finally settled at CRLS where he has remained for the past seven years. Lavalee manages both the main and media cafeterias and kitchens here at CRLS.
The following interview has been edited for concision and clarity. 
Register Forum (RF): How would you like students to address the kitchen staff members?
Ian Lavalee (IL): Just, really, out of respect. The kitchen staff tries to respect students, and the kitchen staff would like that same respect. As far as politeness coming through the line, please and thank yous, stuff like that. We have some members of the kitchen staff that might sound like they are yelling at students, but it's just the way that they talk. The kitchen staff are in a kitchen with lots of banging and pots and pans, so the kitchen staff has to yell in order to communicate to one another. Please and thank you goes a long way.
"
"I love my job. Not many people can say that they love their job, but I do.""
RF: What do you want CRLS to know about being a part of the kitchen staff?
IL: I would like to see more students get school lunch. I know we have outside competition, like restaurants and the like, but I would like to see more students come through because all of the food the kitchen staff serves is made from scratch. I know we don't have the typical french fries and fried chicken for example, but the kitchen staff makes an oven fried chicken and potato wedges, which is not too dissimilar.
RF: What's your favorite part of your job?
IL: My favorite part of the job is coming into work, and making sure that we are serving good food, and my staff is having a good time. Even when the kitchen staff doesn't have a good day, I say to the staff, "Tomorrow is a new day, and we will start fresh." I love my job. Not many people can say they love their job, but I do. I like coming to CRLS every day, I like seeing the students and staff.
RF: What is the hardest part about the job?
IL: Having to maneuver and pivot around people. Everyone has their own personalities and ideas, and sometimes they will agree with you, and sometimes they won't.
RF: What is your dream job?
IL: I had always wanted to be an accountant. I love finances, but I never really pushed myself, or had anyone push me to try. I didn't have good grades, and I decided to go into food service instead, and that's where I am now.
RF: Final comments?
IL: It's great to be back! It's nice to be able to have (almost) no food restrictions again, after the pandemic years. The kitchen staff didn't get any time off during the pandemic, and we lost some of our staff, so it's nice to be able to return to a pre-pandemic normalcy. Oh, and if the media cafe is closed, it's because we are short-staffed, but it will return the next day!
This article also appears in our December 2022 print edition.