Snowball Cookies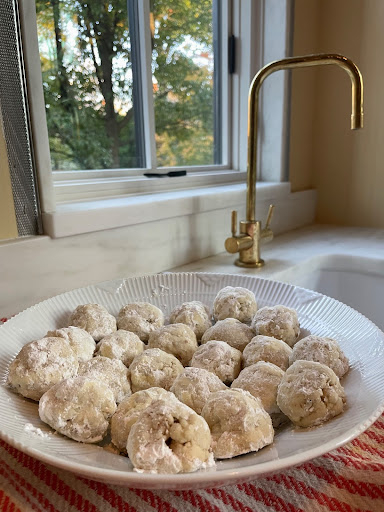 These festive cookies are absolutely delicious. Powdered sugar makes the cookies melt wonderfully in your mouth, and the recipe's simplicity is an added bonus. Feel free to replace the pecans with any type of preferred nut. This is a great recipe to bake in the winter with friends—just be sure not to get into a snowball (cookie) fight! Best served with hot chocolate, eggnog, or tea. 
Ingredients for 24 cookies:
2¼ cups flour
¾ cup pecans, thinly chopped
½ tsp salt
1 cup unsalted butter, softened
1 tsp vanilla
½ cup powdered sugar, plus extra for dusting
Instructions:
Preheat oven to 400℉.

Line a baking sheet with parchment paper.

In a small bowl, combine flour, pecans, and salt with a spoon. 

Using a mixer, beat butter, vanilla, and powdered sugar until creamy.

Turn the mixer to low. Add flour mixture until combined. 

Roll dough into small balls and place them on the prepared baking sheet.

Bake for 8-10 minutes.

When nearly cool but still slightly warm, dunk each "snowball" in powdered sugar.

Enjoy!
This article also appeared in the November 2022 print edition.