A Frighteningly Fantastic Pumpkin Cheesecake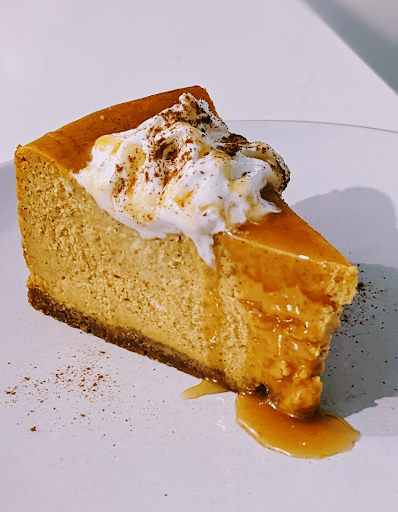 Not for the novice baker, nor for the faint of heart. Instant tears of joy upon tasting or your money back.
INGREDIENTS
For the crust: 
12 graham crackers
2 tsp brown sugar
6 tbsp unsalted butter, melted
INSTRUCTIONS
1. Crush graham crackers by hand (tedious) or in a food processor (recommended). Tip crumbs into a medium bowl and mix in brown sugar. Then, pour in melted butter and stir vigorously with a spoon or spatula.
2. Transfer crumb mixture into a 9" springform pan, and use a cup to press crumbs into a more compact crust.
3. Bake at 350℉ for 10 minutes, and let cool at room temperature.
For the filling: 
24 oz cream cheese, room temperature
1½ cup brown sugar, packed
15 oz (one normal sized can or half a big can) pumpkin pie mix
4 eggs
¼ cup sour cream
2 tbsp all-purpose flour
1 tbsp pumpkin pie spice
INSTRUCTIONS
1. Use an electric mixer to beat cream cheese with sugar for five minutes. 
2. In a separate bowl, whisk together pumpkin pie mix, eggs, sour cream, flour, and pumpkin pie spice. Then, add mixture to cream cheese bowl and beat with electric mixer for one minute. 
3. Pour filling into springform pan with pre-baked crust and bake for 1 hour at 350℉. Once cooked, let the cheesecake sit with the oven door propped open with a spoon or other robust wooden utensil for another 45 minutes. 
4. Chill for 3 to 12 hours in the refrigerator, then slice, making sure to run a plastic or butter knife around the sides of the cheesecake for a smoother removal.
For the topping:
½ cup heavy whipping cream
½ cup white or brown sugar 
1 tsp pumpkin pie spice
2 tbsp unsalted butter
INSTRUCTIONS
1. Heat sugar in a saucepan on medium heat, leaving around two teaspoons in a small bowl for later. Stir constantly with a wooden spoon or spatula as it melts. Crystals will form, but do not fret! The sugar will eventually become liquid and amber-colored.
2. Once this happens, immediately add butter and stir. 
3. Slowly pour in ¼ cup of heavy whipping cream, leaving the rest for later. Stir constantly.
4. Pour caramel into a jar or bowl and allow to cool.
5. In the meantime, beat the remaining ¼ cup heavy cream and two teaspoons of sugar with a whisk or an electric mixer until medium peaks form. 
6. Mix pumpkin pie spice into the cooled caramel sauce until fully incorporated. 
7. Slowly pour half of the caramel sauce into the whipped cream while beating or whisking constantly. Be careful that the cream does not deflate. 
8. Top cheesecake slices with spiced caramel whipped cream and remaining caramel sauce. 
Enjoyed best when accompanied by a spooky movie and a festive spirit!
This recipe also appears in our October 2022 print edition.