Assida Zgougou: A Sweet Tunisian Delicacy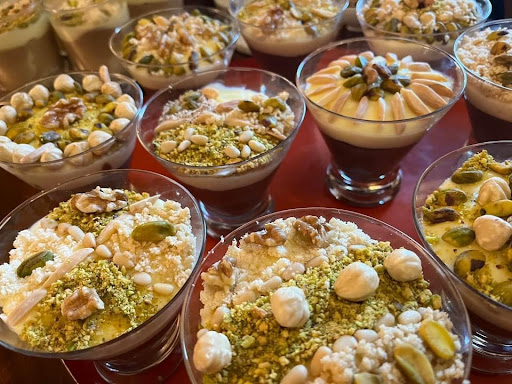 Assida Zgougou is a beloved dessert in Tunisia, made once a year on Muled (or Mawlid), an Islamic day of observance commemorating the birth of the Prophet. Since the dessert is often exchanged between family, friends, and neighbors, the decoration becomes almost as important as the taste as an unspoken competition of sorts begins of who can make the best-decorated assida. The decoration in and of itself is an activity; in my family, we come together with friends to decorate the dessert with pistachios, almonds, roasted hazelnuts, and more, while blasting music and dancing.
The origins of the dessert, however, are more grim. It is a result of a famine in 1864 following a revolution against the Bey (monarch), who raised poll taxes to pay foreign creditors. This pushed people to get creative and eat zgougou (tree seeds) instead of grains like barley and wheat that were exported from Europe (Ali Znaidi, "Tunisia's Extravagant Dessert Came with a Famine"). Today, however, the dessert is a beloved delicacy, with a previously shamed ingredient as the center of it, served to commemorate the birth of the Prophet.
Ingredients:
500g of zgougou (Aleppo pine seeds)
3 cups of water
400g of flour or cornstarch
1 can of sweetened condensed milk
3 tbsp of vanilla infused sugar
Pistachios, roasted hazelnuts, slivered almonds, fresh almonds, pine nuts, and more!
Preparation:
1. Grind the zgougou using a food processor until it becomes a thick paste. Then, in a bowl, add 3 cups of cold water to the paste and let sit overnight. Strain the mixture twice with a sieve to get rid of the grains and set aside the liquid.
2. Sift in the flour or cornstarch into the liquid and mix with your hands. Filter through a sieve again to ensure a smooth texture.
3. In a large pot, add the liquid mixture, and cook on medium heat, stirring constantly. As the mixture thickens, reduce the heat to a medium low and continue mixing with a wooden spoon. Once the mixture begins to resemble a custard-like texture, turn the heat down to low, and continue to stir until it smoothens.
4. Then, add a can of sweetened condensed milk and stir. Slowly add the vanilla infused sugar and continue stirring.
5. Once the texture resembles a custard, let cool and place in serving cups or small bowls. Some add pastry cream/custard to create a second layer. Let cool in the fridge for 30 minutes or longer.
6. For the fun part! Decorate with whole or ground pistachios, pine nuts, roasted hazelnuts, almonds, or the toppings of your choice! (see photo for inspiration)
7. Enjoy! Make sure to share with your friends, family, and neighbors!
This recipe also appears in our October 2022 print edition.