Santorini, Greece: A Hidden Gem by the Water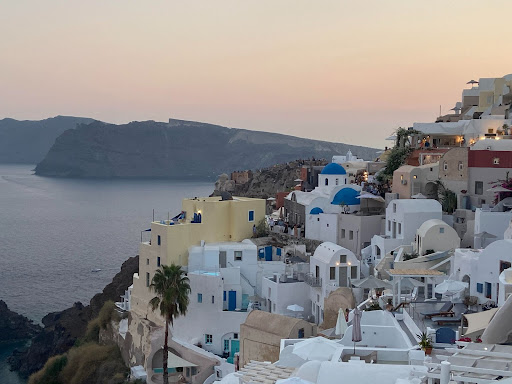 Discovering Santorini is arguably on the top of all globetrotters' bucket lists. Santorini is visited by more than 1.5 million travelers each year. Built on a volcanic caldera, Santorini offers spectacular views and a truly otherworldly sunset in the village of Oia. This sunset is ranked number one in the world by various travel magazines including AllAccor, inviting countless couples from across the globe to rush to this island for weddings and honeymoons.
Luxurious white-washed accommodations and unparalleled cuisine—paired with wine tasting for the volcanic savor of the famous dry white wine—are essential features of this island. These, in turn, have attracted top global investors, chefs, and celebrities such as Robert De Niro, whose new hotel-restaurant "Nobu" is one of the top allures of Santorini. Walking through the small streets amidst the world-renowned blue-domed churches and discovering numerous small shops with ice cream in hand is truly a magnificent experience.
"
When one visits Santorini, they will surely be blessed with the kindness, hospitality, and true generosity of locals."
A boat tour to the island's ancient volcano, followed by an expedition to the therapeutic waters of the three famous beaches (the White, the Red, and the Black) completes the picture of an ideal vacation.
The cosmopolitan aspect of Santorini is coupled with its unique history of the Minoan civilization that is documented in the ancient archaeological sites of Akrotiri and Thera. In addition, the archaeological museum of the island's capital Fira is home to some of the most famous Minoan frescoes. Due to a volcanic eruption, the island has also been associated with the legend of the lost city of Atlantis, mentioned by the Ancient Greek philosopher Plato, yet this hypothesis has been disputed over the last few decades.
Although the ideal tourist experience in Santorini is all of the above, something else constitutes a hidden gem of Santorini; amidst this highly sought tourist experience, what should be highlighted is the authenticity of life of the local people. When one visits Santorini, they will surely be blessed with the kindness, hospitality, and true generosity of locals, even if they explore off the beaten paths. This is something that holds true about Cambridge too. While it is a cosmopolitan magnet and constitutes a home to diverse cultures, its authenticity lies in exploring its local history, traditions, and cultural practices.
So, when visiting Santorini, don't be tempted to follow the crowd; instead, follow the lively festivals, taste the delicious local food, explore the unique archaeological sites, and listen to the cadence of the local dialect. Happy traveling!
This article also appears in our September 2022 print edition.